Next-Generation Digital Merchandising Technology Fosters Print Free B2B E-Commerce
Orlando, FL (1 Sep 2021) – Surf industry manufacturers and retailers are expected to achieve even higher levels of sustainability at this year's Surf Expo show, taking place September 9-11 at the Orange County Convention Center in Orlando, through environmentally friendly wholesale e-commerce technology provided by Emerald's Elastic Suite B2B platform.  Elastic's next-generation digital merchandising technology will provide digital product catalogs, more streamlined wholesale purchasing and collaborative engagement between buyers and brand suppliers at the show.
In addition to greater sustainability, Elastic Suite and Emerald's Digital Market are helping to create a single-platform approach to product sourcing for surf retailers.  This enhanced approach includes 24/7, 365-day virtual access to a full range of products from brands both large and small.
"Achieving higher levels of business sustainability is a top priority for the surf industry, and Elastic is an invaluable partner in providing best-in-class digital product catalogs and B2B sales tools to help make that a reality. Our innovative technology will be creating a more immersive and strategic brand-to-retailer wholesale purchasing experience at Surf Expo and beyond through our always-open Digital Market."

–Sean Smith, surf industry veteran and Digital Market Community Director for Elastic Suite
Attendees at Surf Expo can connect with Elastic at the company's booth #815.  Located on Avenue 1 on the left side front of the exhibit floor, the Elastic booth will feature ongoing demo stations where friendly and helpful Elastic staff will be available for more information.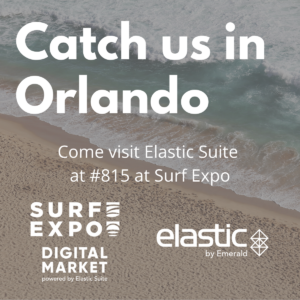 Thursday, September 9th (Day 1)
Elastic Sweets,10 am, at the Elastic booth
The Future of B2B Panel Discussion, 12:30 pm, at the main stage
Friday, September 10th (Day 2)
Block Party Happy Hour, 4:30 pm, at the Elastic booth
Saturday, September 11th (Day 3)
Grab & Go Breakfast, 9 am, at the Elastic booth
Want to schedule some time to meet with our Customer Success or Sales Team?
Why choose Elastic Suite
Enhanced Sales Revenue 
Increased sales revenue from adopting Elastic comes through a wide variety of technology enhancements, including brand-specific retailer applications, sales rep tools, strategic sales planning, digital merchandising, product customization, assortment planning tools and more. The combined impact of these B2B sales lift factors represents a total potential increase in commercial sales volume of more than 21%.
Cost Savings 
Optimizing the B2B sales and merchandising process can be a key source of increased operating process efficiency and cost savings for brand manufacturers. These savings come from eliminating printed B2B sales materials, more accurate orders, enhancing resource optimization, streamlining inventory management, integrating B2B payments and reducing product sample portfolios. The total potential savings is 10.3% of operating costs related to sales, marketing and customer service budgets.
Greater Sustainability
Elastic Suite's leading digital catalog capability is strongly aligned with the Business Sustainability Alliance of the Surf Industry Manufacturers Association (SIMA).  According to SIMA, association member manufacturers collectively create an estimated 180,000 B2B sales catalogs annually. Research by the Environmental Paper Network shows that producing this number of 150-page catalogs requires 675 tons of wood from 4,050 trees, uses 4.31 billion BTUs of energy, produces 3.04 million pounds of CO2, uses 3.62 million gallons of water and produces 199,000 pounds of solid waste.  All of these negative environmental impacts are being eliminated when brands move to print-free B2B sales and marketing via Elastic.
World-Class Brands
Elastic's next-generation B2B technology serves clients representing hundreds of the world's largest and most iconic brands in the surf, outdoor, cycling, sporting goods, apparel, lifestyle and footwear industries. Selected brands served include: Boardriders, RipCurl, Volcom, O'Neill, Quiksilver, Vans, The North Face, Patagonia, K2, Thule, Marker, Dalbello, Völkl, Active Brands, Shimano, Scott Sports, New Balance, Puma, Reebok/CCM and Burton.
About Emerald
Emerald is a leader in building dynamic, market-driven business-to-business platforms that integrate live events with a broad array of industry insights, digital tools and data-focused solutions to create uniquely rich experiences. As true partners, we at Emerald strive to build our customers' businesses by creating opportunities that inspire, amaze and deliver breakthrough results. With over 140 events each year, our teams are creators and connectors who are thoroughly immersed in the industries we serve and committed to supporting the communities in which we operate. For more information on Elastic, visit www.elasticesuite.com.