The current Elastic Suite version 2021.10 contains some significant improvements for the benefit of both brands and retailers. These recent upgrades include additional supported languages, improved catalog landing pages, updates to order PDFs and enhancements to data reporting. This release represents the latest in next-generation B2B ecommerce technology and demonstrates Elastic's strong commitment to continuous innovation and improved UX.
Languages
Elastic Enterprise now offers a total of 22 language choices for users with the recent addition of Swedish, Finnish, Norwegian, English AU (Australia), and English NZ (New Zealand). These English variants were added to accommodate the preferred use of date formats specific to those regions.
When choosing a language preference, Elastic will automatically update the navigational text to the user's local language. All platform-specific information and prompts, such as the "Get Started" or "Place an Order" tabs, will appear in that chosen language. However, the language preference setting does not translate the brand product information provided by the manufacturer. Product names, details, marketing content and other information will remain as entered by the brand at the product origin.
A key benefit of selecting a local language is that it will automatically convert the date format used in the ordering process to match the standard format for the buyer's region. For example, in the US the preferred format is month/day/year whereas in the EU it is day/month/year. This type of information automation will help eliminate confusion or date-related errors during the ordering process.
Catalog and Category Landing Pages
Elastic has made upgrades to the digital catalog and product category landing pages giving more capability to brands and an improved buyer UX. Brands can now utilize new features within digital catalogs to showcase seasonal stories including sustainability messaging, technology details and additional merchandising capability.
The catalog and product category landing page improvements also mean a more collaborative and immersive experience for retailers. Wholesale buyers can now access a slick new interface that enables users to click an arrow to page through the rich content while browsing and searching products. This enhanced capability for retailers can ultimately result in more strategic sourcing for their seasonal product inventories.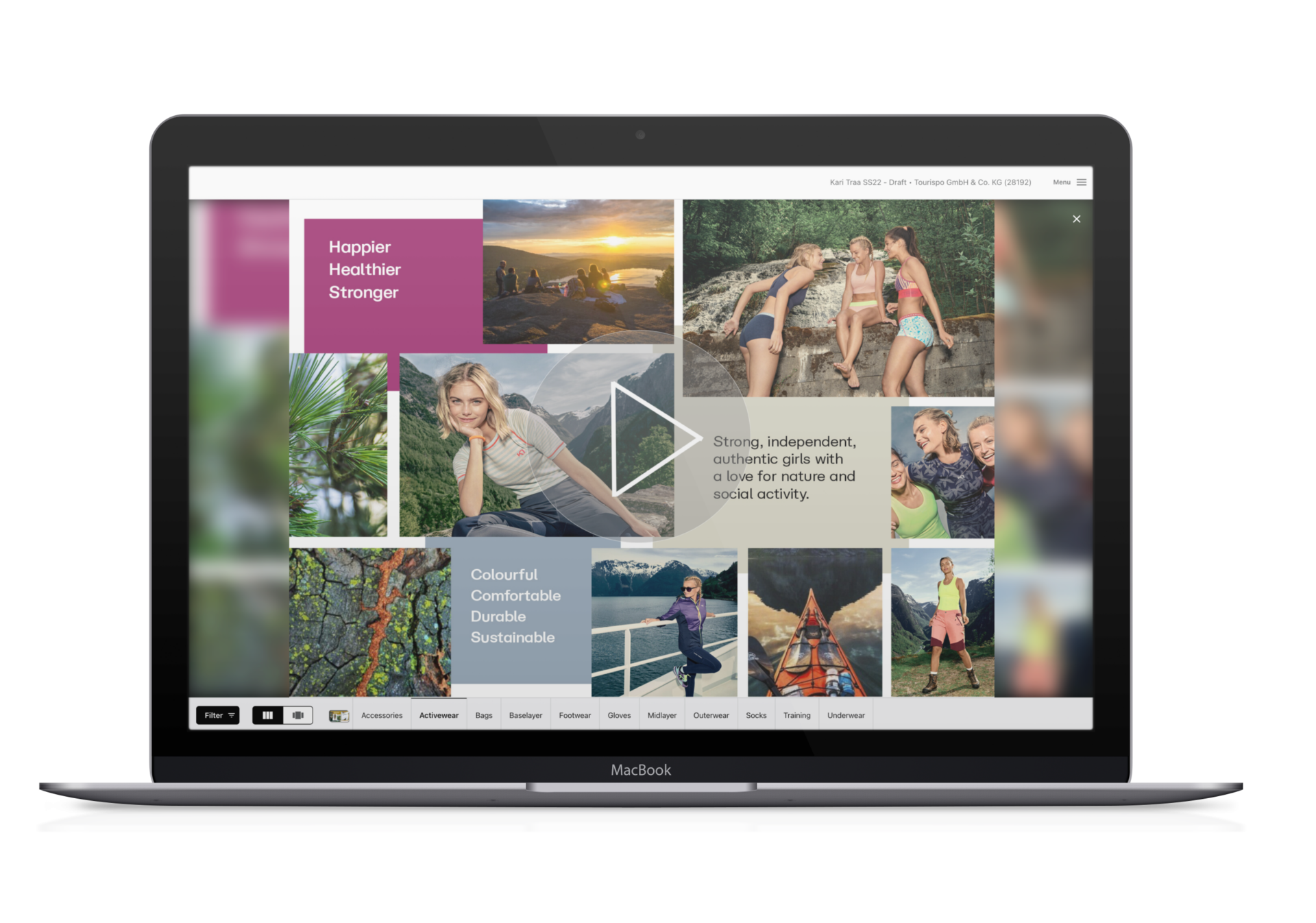 Order PDF Updates
Elastic order PDFs have a new look and updated content for additional functionality. While the table layout PDF option has always been an innovative and powerful tool, recent improvements have made it even better. Details like PO, ship date, shipping address and payment terms are now all included in the order header. This enhancement allows users to easily recap an order or an order proposal they have created using Elastic's immersive digital catalog and assortment builder. And order PDFs are also now even easier to export. With the addition of an export button integrated right into the dashboard, users can export the PDF without opening the order.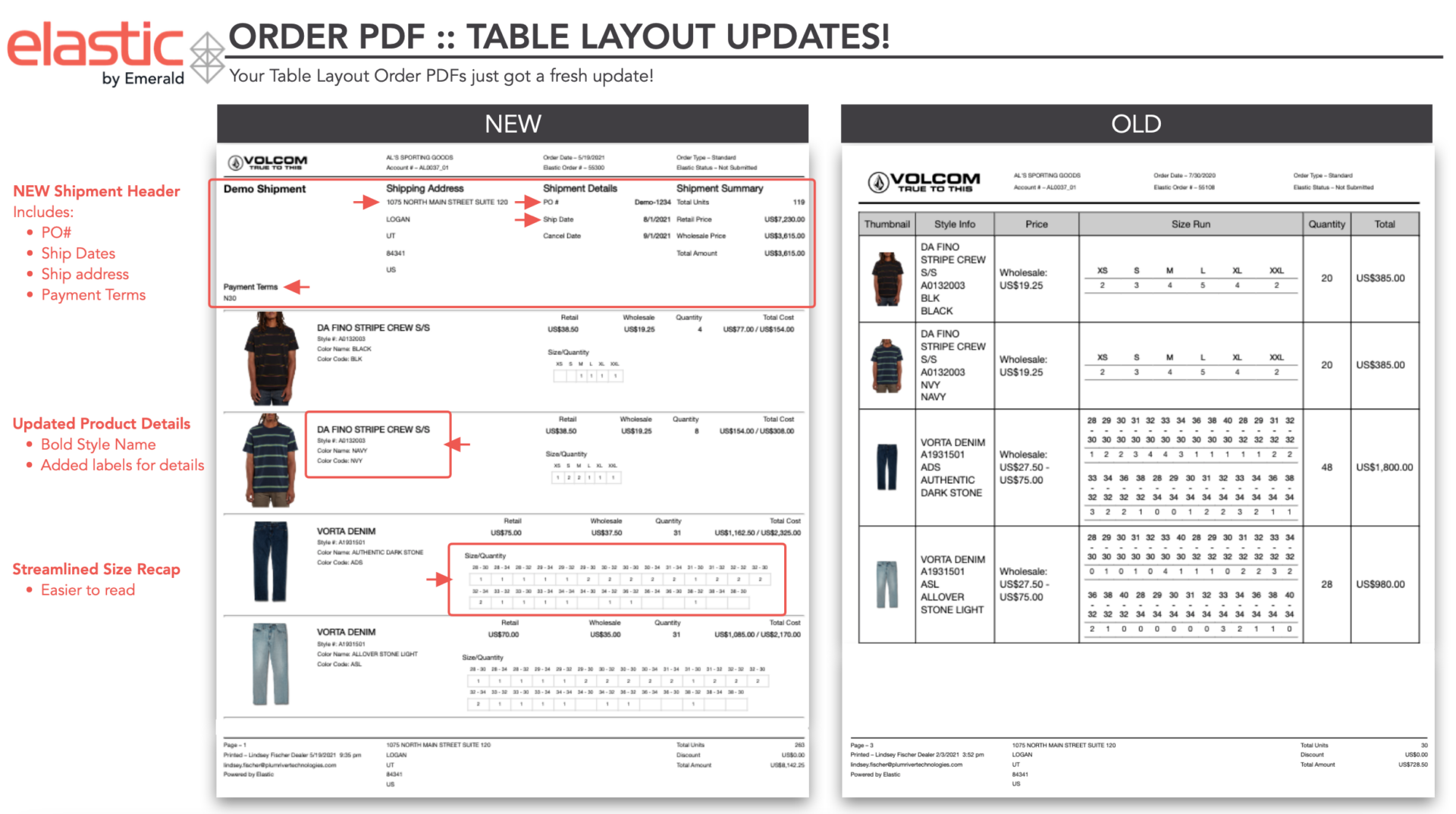 Data Reporting
 Accessing and reporting sales-related data is now much faster and easier on Elastic with a higher degree of automation. These improvements are providing brands more transparency into their data and greater ease of back-office integration with their overall business processes.
Instead of exporting data order by order, manufacturers can now run collective reports for all orders made on the platform while filtering the data by customer, catalog, order status and date range. Easily accessible and shareable Excel reports include details like order name, PO number, product name and/or code and the order quantity. Sales reps can see all orders for specific customers while buyers can find all orders they created for a specific catalog or date range.
Want to see these new platform updates in person?