Hestra, founded in 1936, is a luxury snow, outdoor, and lifestyle glove brand, producing over two million pairs of gloves annually.
The Swedish-based family business has a vast distribution network with 50 reps managing over 800 global retailers in the specialty ski, snow and outdoor markets. Hestra chose Elastic Suite as their B2B partner due to the superior NetSuite ERP integration experience and abilities, and the platform's innovative features that enhance both the buying and selling experience.
Priority #1: NetSuite Integration
Hestra was looking to take their wholesale ecommerce to an entirely new level by integrating their ERP with Elastic Suite's B2B. This powerful two-way sync has been proven to: increase sales revenue, cut operational costs, and save time and resources spent on manual data entry and maintenance.
The collaboration between Elastic and Hestra's integration teams was imperative to the client onboarding process. Elastic's integration team takes a tailored approach to each implementation strategy to effectively meet the unique needs of each brand and their retail partners.  Together, the teams identify key data fields that are necessary for wholesale commerce.
The implementation happened quickly, and within the first two weeks of their pre-book season, Hestra placed over 800 orders, totaling over $11 million. In addition, countless hours were saved from manual data entry due to the seamless two-way data sync.
"A B2B system is only as good as the integration. I've been quite pleased and am confident that we made the right decision with Elastic. NetSuite and Elastic is a good marriage and they've invested considerable time and effort in developing the adapter. The implementation team's support was integral to getting us up and running for our first pre-book season. "
Read more about our NetSuite Integration.
Priority #2: Enhanced Marketing Assets
Additionally, Hestra is fully utilizing the enhanced assets and sales materials, available within Elastic. Hestra has enhanced their storytelling strategy with the new Elastic user interface, which was designed with brand customization in mind. Marketing and wholesale sales teams are collaborating cross-functionally so that marketing assets are utilized in multiple settings from the branded dashboard to digital catalogs and custom collections.
Hestra continues to elevate their B2B ecommerce by developing enhanced marketing assets within Elastic, including:
Close-up and textural photos in the Digital Catalog
Custom layouts in the Custom Collection Builder
Technology specs on Product Detail Descriptions
Advanced filters & iconography on Search Pages
Application of lifestyle imagery and marketing assets to every feature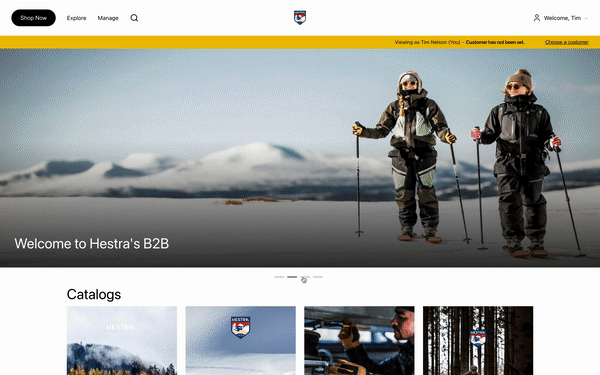 Elastic's emphasis on and investment in enhanced marketing materials and assets led Hestra to rejoin the company.  Brands who partner with Elastic are choosing to go beyond traditional ecommerce experience. This strategic partnership is changing the entire wholesale buying and selling process, taking commerce from transactional to transformational.
Read more about Enhanced Sales & Marketing Assets
Priority #3: New Markets
Hestra's products have had a stronghold on the ski and snow markets for many years, but they're expanding their product line into new territories including MTB/biking, western and workwear, and high-end fashion. To strategically break into new markets, it is critical the buying experience is simplistic. This is why Hestra's sales team is taking advantage of the Elastic Offline Order Form (known as OLOF) for tradeshows and in-person sales meetings when access to high-speed internet is not dependable. The OLOF allows orders to be built in real-time, then synced and uploaded when an online connection has been restored
In addition to in-person selling, Hestra needed a retailer-focused solution, especially for new markets. Because Elastic Suite is designed with the retailer in mind, it supports brands looking to break into new retail markets by creating a more seamless experience for all parties.
Conclusion
When marketing and selling a best-selling product line like Hestra's gloves, a digital B2B solution to match is imperative. With an end-to-end NetSuite integration, and enhanced selling tools that bring commerce to life, Hestra is uniquely positioned to take on new channels with products that fit in markets beyond ski/snow and outdoor.  By partnering with Elastic Suite, Hestra is enabling their sellers to sell deeper, and buyers to buy broader.
To learn more about Elastic Suite and how we can help scale your business request a demo