Bringing Single-Platform Purchasing to Wholesale Commerce
Current trends confirm a migration among brand manufacturers and retailers toward utilization of streamlining wholesale eCommerce technology. Digital B2B sales and merchandising solutions help brands achieve a more collaborative, efficient, and profitable commercial sales process with their retail partners. A single-platform experience allows retailers to more strategically source products across a large base of brands through an easy-to-use feature-rich wholesale purchasing solution.
"This trend is being driven by retailers. We're simplifying their processes by eliminating the need for buyers to use multiple platforms to place orders and reorders. The creation of a centralized platform helps extend the relationship between brands and retailers while saving on operational costs and improving sales revenues."

John Marchione, VP Data Engineering, Emerald
Achieving true single platform commerce requires embracing a holistic approach that expands to cover more transactional needs of both buyers and sellers. Adding an integrated online payment capability is an important feature to help streamline the wholesale purchasing process.
End-to-End Payment Integration
Providing integrated electronic payments within next-generation B2B solutions is key to creating a true single platform purchasing experience for wholesale buyers. Sellers that use electronic payments through ACH and credit cards with their customers, offer a much more streamlined and efficient process over traditional paper-based invoicing methods.
Simms Fishing Products, a leading global manufacturer of fishing equipment, accessories and apparel, is at the forefront of streamlining wholesale merchandising and purchasing for buyers and sellers. To better serve their diverse worldwide network of independent fly-fishing shops, sporting goods stores and online retailers, the company decided to undertake a complete overhaul of their B2B sales process by deploying next-generation merchandising and payment technologies.
"We were in need of a single platform that could handle our robust pricing structure and allow for multiple incoming order types from our retail partners. The addition of an online payment portal integrated with our wholesale purchasing process has created a much more efficient self-service payment option for buyers."

Marcie Gleason, Director of Sales Operations, Simms
Transitioning from paper-based to electronic payments is becoming increasingly important for US businesses. Although some barriers remain, 90% of companies are committed to converting to electronic B2B payments with 32% already having made the transition with the majority of their payments.
Likelihood of Businesses Converting Majority of B2B Payments Made to Suppliers from Checks to Electronic/Digital Payments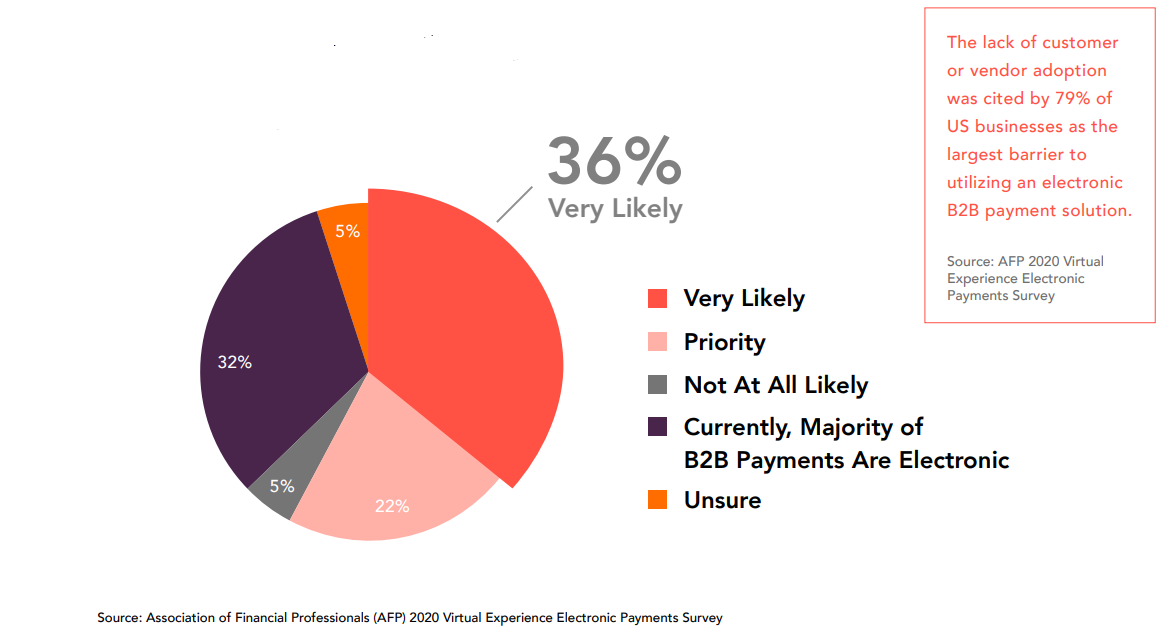 Benefits of Streamlining Payments for Wholesale Buyers and Sellers
Buyer Benefits
When compared to paper-based invoicing processes, buyers realize benefits across the board. Integrated buyer-initiated payments streamline each level of the transaction process for both buyers and sellers. The top five benefits in ranked order for buyers when sending electronic payments include:
• More streamlined processing
• Cost savings
• Improved cash forecasting
• Speed of settlement
• Improved supplier relations
Primary Benefits of Sending Payments via Electronic Payment Methods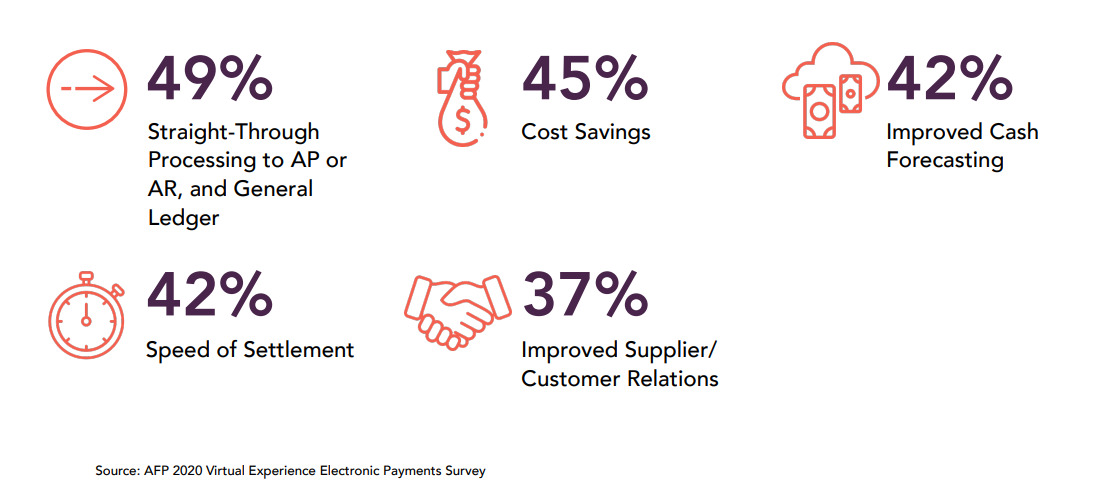 For cost savings, buyers reduce fully allocated accounts payable costs on average by 78% when transitioning from traditional paper-based payments to electronic payment methods.
Additional Buyer Benefits:

"Our retailers find our integrated online payment feature easy to use and started to embrace it quite quickly when we introduced them to the full capabilities, such as the ability to see historical statements, view credit memos and manage invoices. Buyers were able to learn the platform with minimal training and having the payment module tied directly to our dealer portal certainly helped with adoption."

-Stacie Bruno, VP of Finance, Simms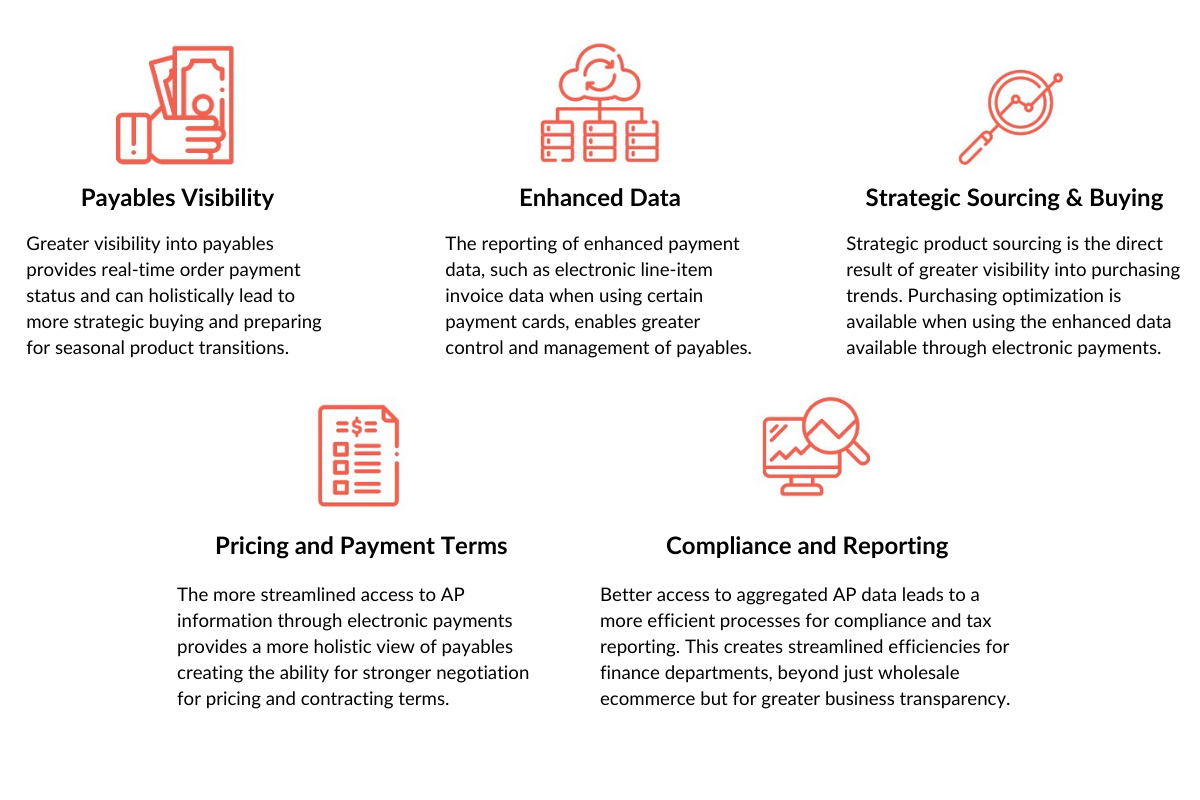 Supplier Benefits
When transitioning to electronic payments, brands and manufacturers will realize benefits, similar to those of their retail partners. The same AFP research reveals that the top five benefits for suppliers in ranked order when receiving electronic payments are:
• Speed of settlement
• More streamlined straight-through processing
• Improved cash forecasting
• Improved matching for cash application
• Improved customer service
Primary Benefits of E-Payments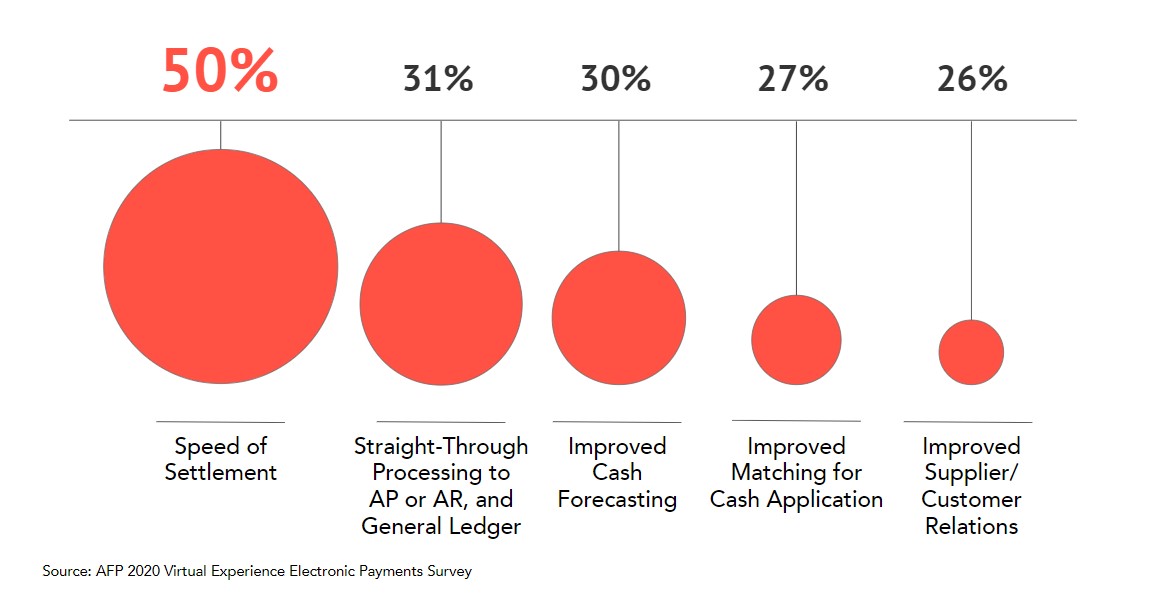 "With an integrated sales and payment platform we are working to provide our retail partners with better visibility into orders. This improvement is also helping to significantly reduce manual processes and increase automation, while creating more efficient and streamlined workflows on both sides of the transaction."

Marcie Gleason, Director of Sales Operations, Simms
Additional Supplier Benefits: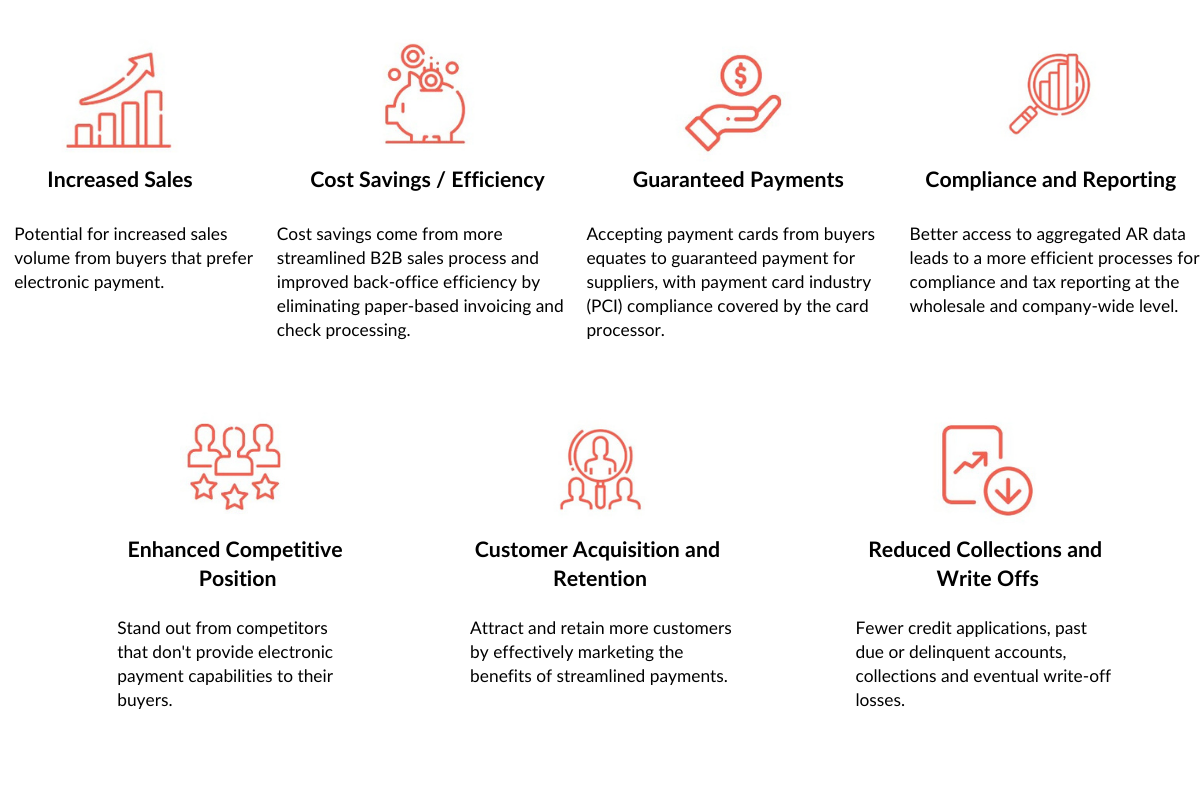 Ease of Integration
It is not a hard process for brands to streamline payment capabilities for buyers. An online payment portal is easily integrated with wholesale ecommerce and digital merchandising platforms like Elastic Suite. As with all other features of the platform, the payment portal is part of a seamless integration with a brand's existing ERP, AR, and business processes. Once adopted, both buyers and sellers can realize the bottom-line benefits of using online electronic payments.