As B2B commerce becomes more streamlined and automated, staying competitive and meeting customer expectations is key. NEMO Equipment, a New Hampshire-based camping equipment brand, is transforming its B2B sales process to elevate their customer experience. Because they are a wholesale-first business, building relationships with specialty retail is top priority. Their secret weapon? Elastic Suite, which offers a variety of transformative tools that simplify order processes, streamline inventory management, and inspire continuous collaboration between the brand and retailers.
"Our mission is to empower our retailers to make buying decisions aligned with their values and cultivate trust in our brand by demonstrating our commitment to their best interests in the business decision we make.We harness the power of the Elastic B2B tool not only as a sales gateway but also as a robust platform for product education, ensuring our customers are not just buyers but well-informed advocates of our offerings and the NEMO brand."
-Anne Miltenberger, Sr. Manager of Dealer Services, NEMO Equipment
Elastic Suite: The B2B Standard
The traditional B2B wholesale purchasing process has often been plagued with inefficiencies, complexities, and a lack of transparency. NEMO's Wholesale and Dealer Services team recognized that it was time to reinvent their approach to better serve their business customers. Improving the retailer experience was the catalyst for this transformation, and Elastic emerged as the preferred B2B platform by retail buyers.
Tailored Catalogs for Business Clients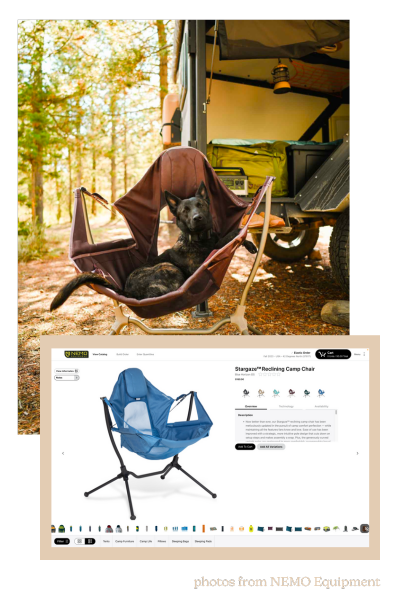 One of Elastic's standout features is its ability to create personalized product catalogs. Since each of NEMO's retail doors had unique requirements and preferences, their independent sales reps could use Elastic to curate assortments specific to specific buyers, showcasing the products that best align with their wants and needs.
This personalization allows NEMO reps to present their retail partners with a more focused and relevant product selection, saving time and effort for building order proposals. This tailored approach not only strengthens retail relationships but also increases sales conversion rates.
Effortless Ordering and Reordering
One of the most important aspects of NEMO's focus on customer experience was a more intuitive and streamlined ordering process for retailers. Elastic Suite standardizes the ordering process for retail buyers by being the industry-preferred solution for outdoor and action sports brands. With over 20 years of experience working with hundreds of hard and soft good manufacturers and action sports brands, Elastic is the most ubiquitous commerce tool for outdoor specialty retail.
Real-time Inventory Visibility
One of the major pain points in B2B wholesale operations is the lack of transparency surrounding product availability. The dealer services team at NEMO recognized that their customers needed real-time information about available stock to make informed purchasing decisions. Elastic Suite's real-time inventory module addresses this issue.
Now buyers can check the availability of products instantly, reducing the risk of backorders and ensuring that orders were fulfilled promptly. This real-time data ensures confidence for both retailers and brands, from back-office management to sales reps, minimizing reorder disruptions and maximizing inventory accuracy.
Data-Driven Insights for Informed Decisions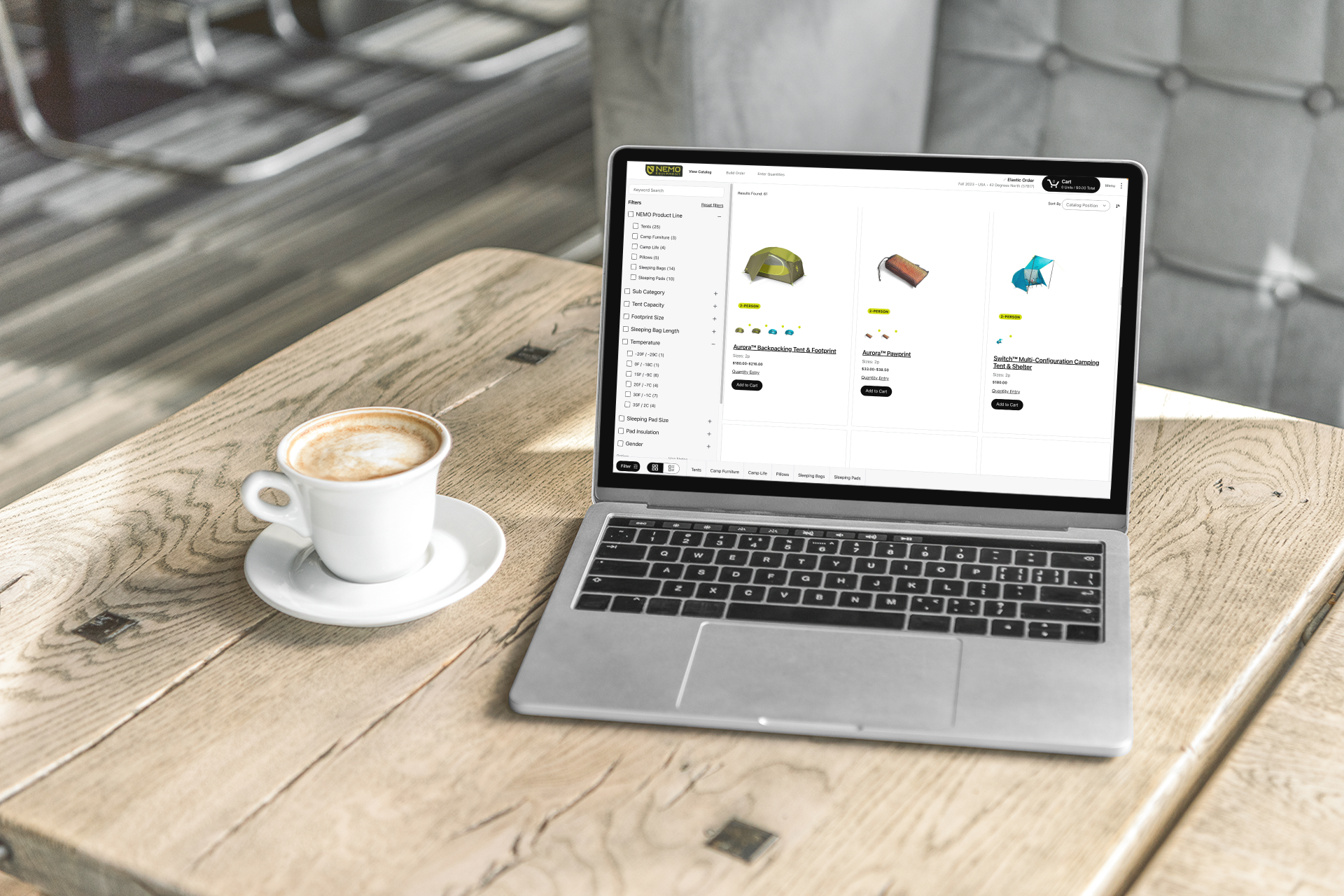 "Having insight into our customers' behavior is a game-changer. It allows us to be proactive in meeting their needs." said Miltenberger. Data is an invaluable tool in wholesale sales and Elastic provides NEMO and their retail partners with a variety of actionable insights. Reps can track customer preferences, monitor inventory conversion rates, and analyze sales trends. Armed with this data, reps and buyers can make informed decisions based on inventory seasonality, pricing strategies, and product promotions.
Enhanced Customer Support
"We needed a tool that could supplement the service we're able to provide during the week.  By implementing Elastic's efficiencies, we've been able dedicate more time and energy to personally supporting our retailer partnerships."

-Anne Miltenberger, Sr. Manager of Dealer Services, NEMO Equipment
Future-Proofing with Elastic Suite
Adoption of Elastic is a key factor in NEMO's digital transformation. The platform not only addressed their immediate pain points but also helps to future-proof their business operations. As B2B commerce continues to rapidly evolve, NEMO trusts Elastic's flexibility and scalability, ensuring that the brand will continue to adapt to changing market dynamics and customer expectations.
NEMO's B2B partnership with Elastic Suite highlights the transformative power of building exceptional customer experiences in B2B commerce. Through personalized catalogs, real-time inventory visibility, and data-driven insights, NEMO enhances the buying experience for their ever-important retail partners. This transformation has not only boosted customer satisfaction but also positions them as leaders in their industry. In the fast-paced world of B2B ecommerce, Elastic Suite remains the trusted B2B solution for enterprise and hyper-growth brands on the journey to continued success.
To learn more about how your brand can elevate your retail relationships, schedule a discovery session with our sales team.