FLEXIBILITY & ACCESSIBILITY FOR MIDSIZED BRANDS
How KAVU Serves Specialty
Retail with Enterprise Level B2B
eCommerce Technology
When outdoor and lifestyle apparel manufacturer KAVU decided to upgrade their B2B ecommerce interface with their retailers they were looking for a technology partner that could not only meet but exceed their expectations. Providing specialty retailer partners with the most seamless, flexible, and feature-rich digital merchandising solution was their top priority and they could not risk anything short of a successful transition. And equally important was finding a provider who could deliver full enterprise-level platform integration within the smaller resource commitment available to a mid-sized brand.
KAVU management had their eye on Emerald's Elastic platform for quite some time and were aware of what Elastic was doing with some of the largest global brands. When the Outdoor Industry Association (OIA) endorsed the platform, they recognized the emerging trend that B2B ecommerce was coalescing around Elastic as the industry-standard wholesale purchasing technology and knew it was the right choice for them.
"Prior to the Elastic roll-out, our specialty retail partners were using a combination of two separate KAVU web-based purchasing portals. The process had become outdated and it was difficult to provide an optimum buying experience for our retailers. The flexibility and ease of integration of the Elastic platform resulted in the creation of the ideal purchasing interface between our sales team and our specialty retailer network. Not only does it match the way we do business, but Elastic has provided the level of support needed for a successful deployment based on our allocated budget and current staffing levels."
Patrick Wellnitz,
In-House Counsel/Technology Manager KAVU needed the most flexible, feature-rich digital merchandising solution for their specialty retailers.
Elastic provided KAVU with an enterprise-level solution based on the resources of a midsized brand.
Endorsement of Elastic by OIA was a key factor in KAVU's decision.
When deploying a new B2B ecommerce platform, one of the biggest concerns for manufacturers is ensuring a smooth transition and seamless adoption by their retail partners. Even with the accompanying major sales process improvements, change can still be difficult and poses a potential risk for retailer relationships. Key to the KAVU roll-out was Elastic's industry-leading approach to ERP integration, retailer orientation and sales rep training to ensure a successful migration from their existing sales processes to the new technology.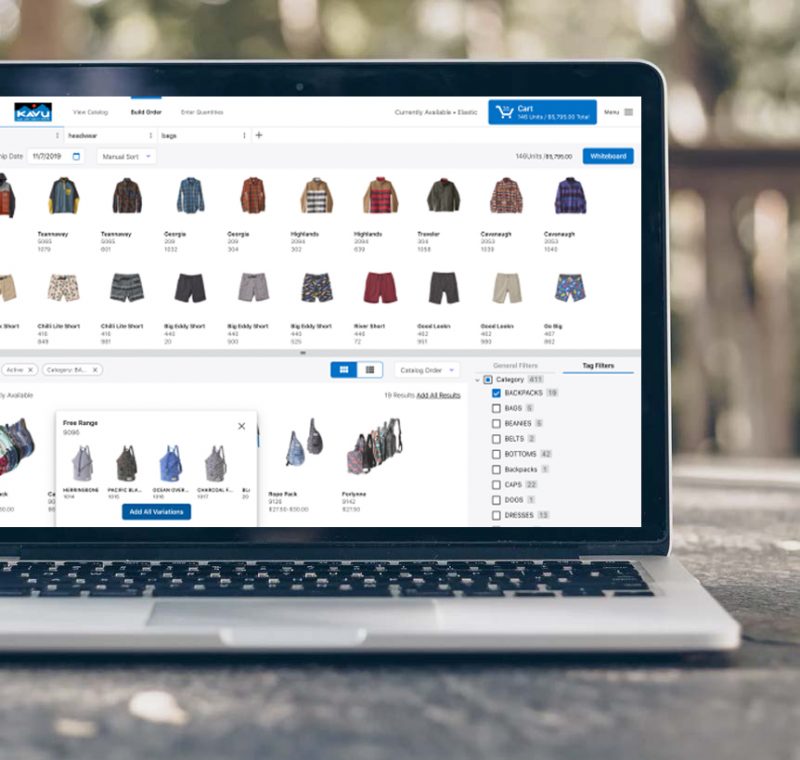 "When considering the need for greater sales process efficiency in response to growing marketplace challenges, we as an industry cannot continue following a business-as-usual path. Taking on this challenge and helping both brands and retailers make this transition to more cost effective and environmentally friendly B2B ecommerce is directly aligned with the values and vision of surf manufacturers, retailers and consumers."
Stephanie Mason,
Sales Coordinator,
KAVU A seamless rollout and enhancing the purchasing experience with retailers were KAVU's top priorities.
Adoption by retailers was better and faster than originally expected.
Experience by retailers already using Elastic and training for others helped with a smooth transition.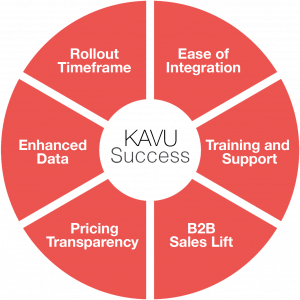 Following are selected results that highlight the success of the rollout:
Rollout Time frame
The typical time frame to deploy the Elastic platform is approximately 12 weeks. The KAVU rollout from the initial implementation phase to "go live" status closely followed this average time frame. During that time key members of KAVU senior management, technology staff and sales team members worked hand-in-hand to ensure a successful deployment.
Ease of Integration
The flexibility of Elastic to seamlessly integrate with existing ERP platforms, business processes and retailers was the key factor making the rollout possible within allocated budgets and staffing levels. KAVU uses Microsoft Dynamics GP as their ERP platform. Elastic easily integrates with all most common ERP solutions, including variants of MS Dynamics, SAP, Oracle, NetSuite, Full Circle and others.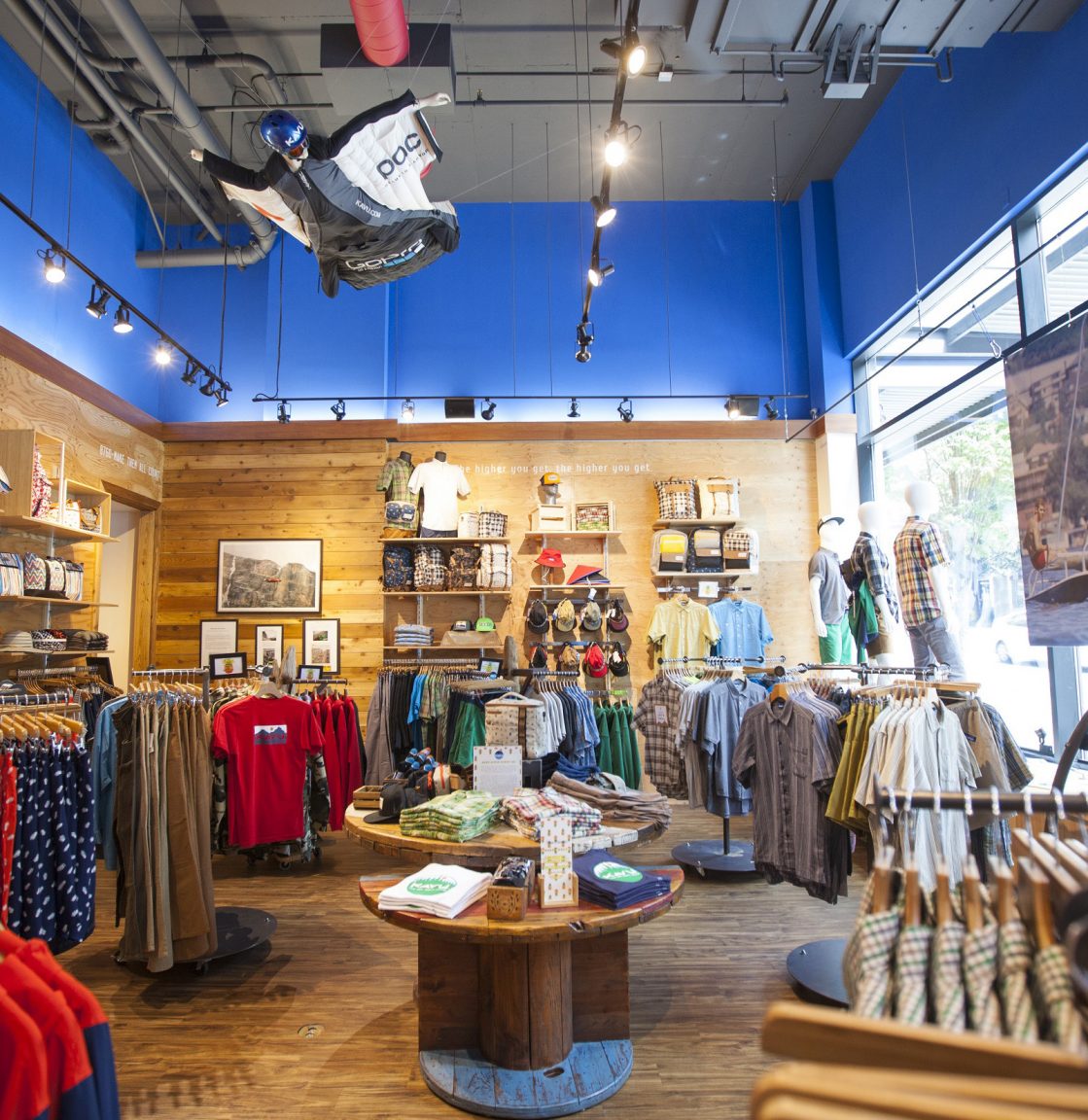 Rollout Highlights (continued)
Training and Support
The level of Elastic training and support with both retailers and sales reps helped to make the transition go more smoothly and faster than expected. Training of product and sales teams took place in three phases through a combination of onsite meetings and interactive webinars. KAVU sales team members were trained on how to orient retailers to the platform in the field. Retailer orientation was less intensive than anticipated because many retailers were already familiar with Elastic across multiple brands. Ongoing Elastic support helps keep all aspects of the platform at optimum performance for both KAVU and their retailers.
Enhanced Data
With Elastic's seamless integration methods, product and transaction data is much more streamlined and real-time preseason product availability has been enhanced dramatically. KAVU catalog additions or revisions are automatically uploaded hourly and are available in just minutes. ERP data and sales metric updates are automated within similar timeframes significantly improving visibility into many aspects of the B2B sales process on a real-time basis.
Pricing Transparency
Variable product pricing between seasons is now transparent to retailers based on changing market conditions, product availability or other factors affecting seasonal price fluctuations. As a result, KAVU specialty retailers are now able to create more strategic merchandising plans at the store level and the transition between sales season is now more seamless since utilizing the Elastic platform.
B2B Sales Lift
Initial results indicate an uptick in KAVU B2B sales orders with retailers and dealers. Assortment planning tools, more compelling sales promotions, conducting more strategic sales planning, managing complex pricing incentives and sales programs, and enhancing product sales presentations are all now possible on the Elastic platform. These factors, combined with KAVU's commitment to enhancing the wholesale purchasing experience for their retail partners, are contributing to incremental sales lift. Timely rollout and seamless integration within the resources of midsized brands was a success.
Training of key KAVU teams and ongoing Elastic support ensured a seamless transition.
Important early results for KAVU are enhanced data, pricing transparency and B2B sales lift.
KAVU's decision to choose Elastic as their B2B ecommerce technology partner was driven by their commitment to their specialty retailers to provide them with the industry's best digital merchandising and wholesale purchasing interface. As a mid-sized brand, KAVU has showcased the success of Elastic in serving this segment with a rollout that is exceeding expectations. The results are improved sales and merchandising processes with their retail partners that are expected to deliver bottom-line benefits through efficiency-driven cost savings and continued measurable sales growth.
"To serve KAVU by helping them put our industry-leading technology to work for their business and for their specialty retailer network is a great opportunity for Elastic. This improvement to their B2B sales process will help KAVU take their unique brand and product lines to new levels of success with both their retailers and consumers. What KAVU is doing with Elastic at the enterprise level illustrates the ability of the platform to successfully serve mid-sized brands and do it within their current budgets and resources. In this way, Elastic is leading the trend toward a standardized B2B ecommerce platform that is becoming the preferred solution by both manufacturers and retailers."
Josh Reddin,
EVP,
Elastic Suite