PROUD RUNNING INDUSTRY ASSOCIATION PARTNER
The B2B platform built for run specialty brands
Designed to help brands and retailers connect, transact and ultimately, grow revenue, Elastic Suite optimizes every step of the wholesale process.
B2B ecommerce is taken from transactional to transformational by bringing together ERP and backend data to empower sales reps, retailers, and distributors.​










Join us in Austin at The Running Event & Switchback!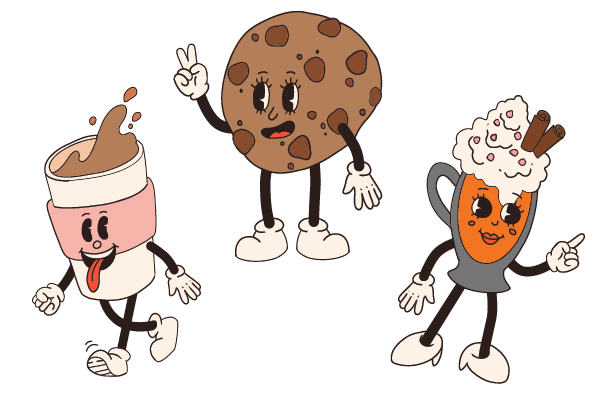 Coffee & Pastries each morning at 9am!
RETAILER TRAINING
Register for a training demo with our account managers so you can get the most out of assorment planning & order management.
Increase speed-to-market & win rates with digital selling tools
Hover to see how Elastic is helping to solve common wholesale challenges

Challenge
Inability for sales to quickly follow-up with personalized collateral

Solution
A self-serve platform enabling sellers to create beautiful, custom collateral in minutes

Challenge
Inefficiencies across sales, marketing & creative teams


Solution
Enable your sales team to create curated and digital sales collateral with an easy-to-use platform

Challenge
Limitations on how to curate and segment a large product line


Solution
Categorize products by design style or theme. Conceptualize specific products of interest vs the entire catalog

Challenge
High cost to produce, print and update sales materials


Solution
Eliminate or reduce the need to print, saving costs and supporting sustainability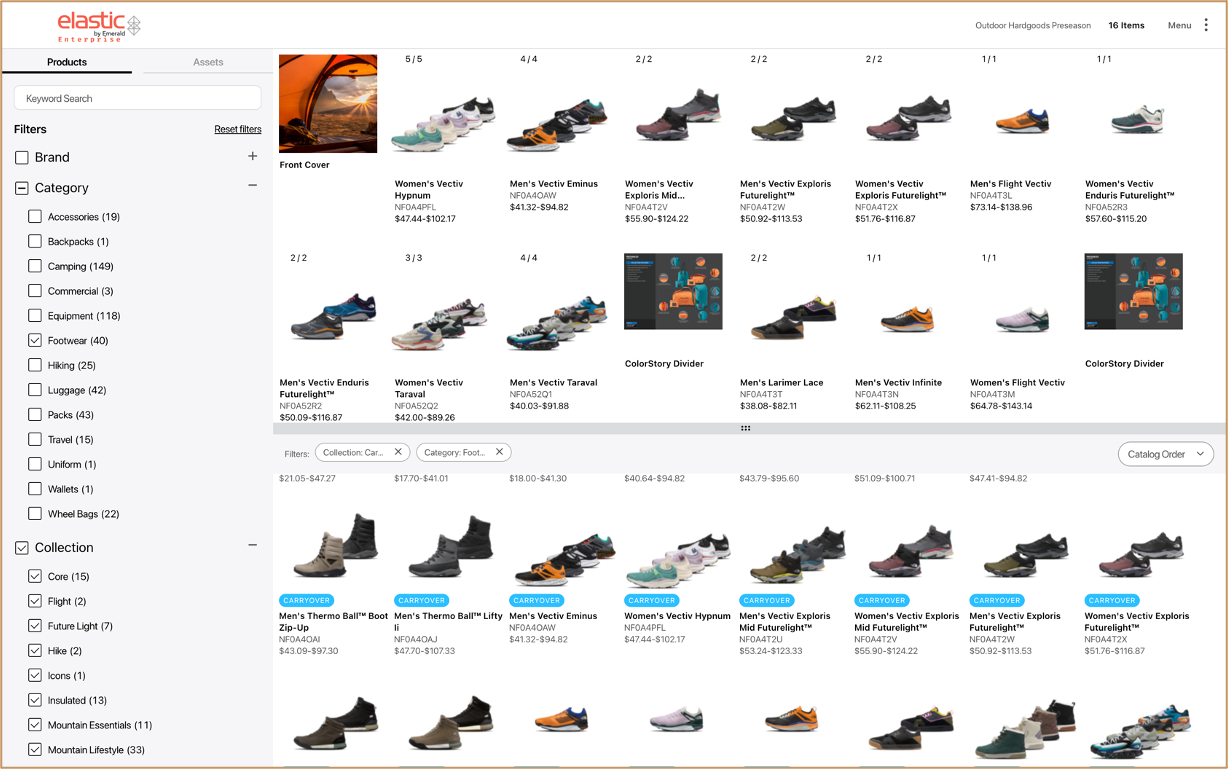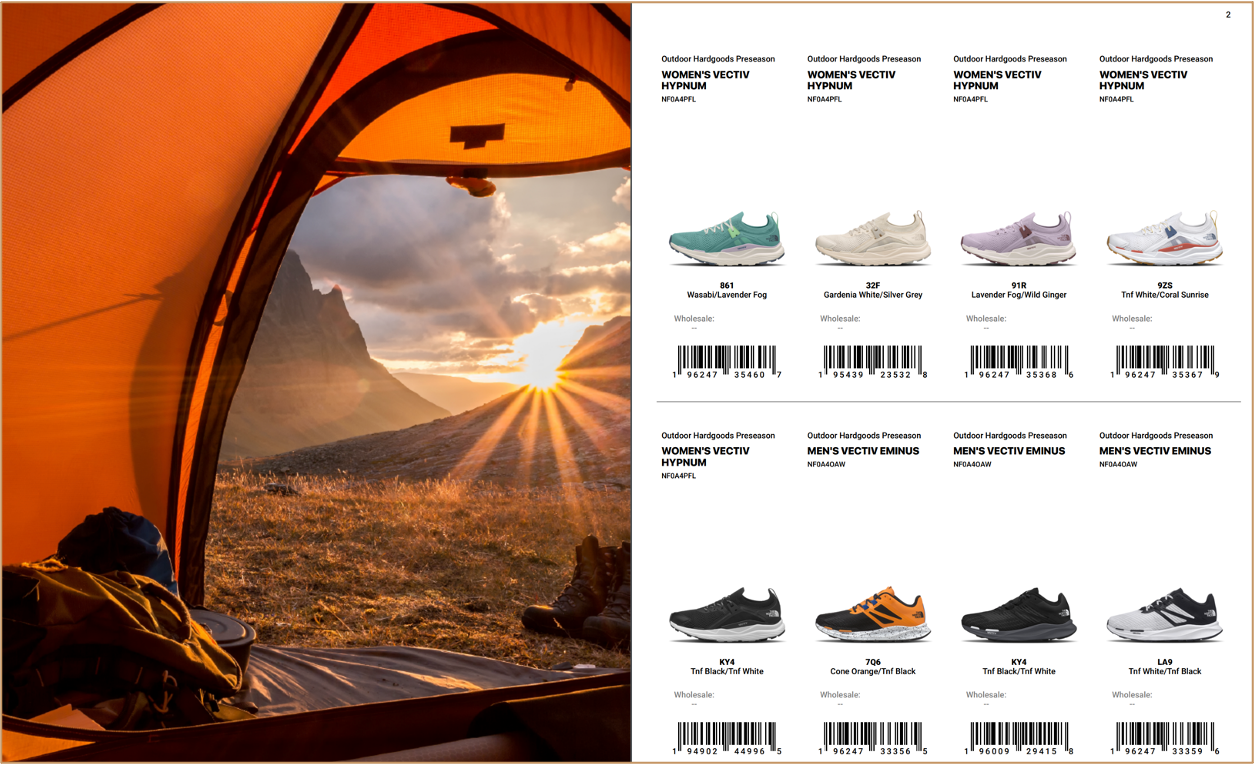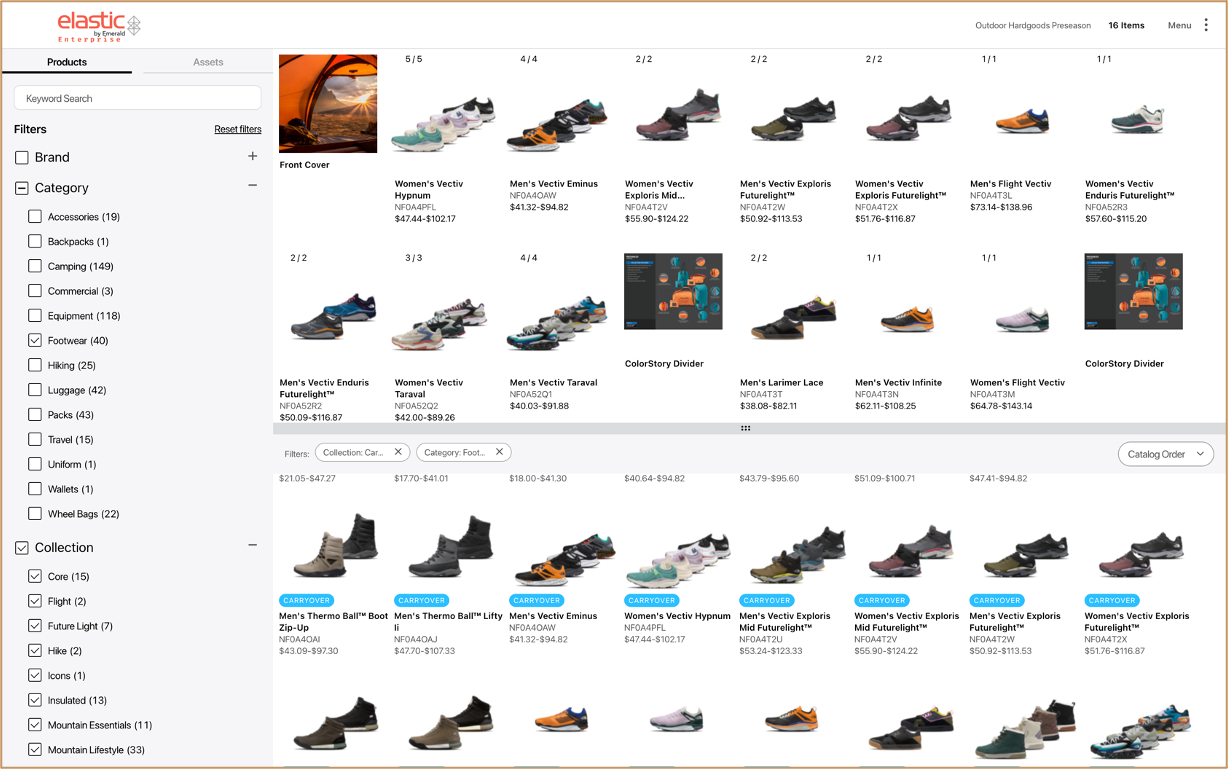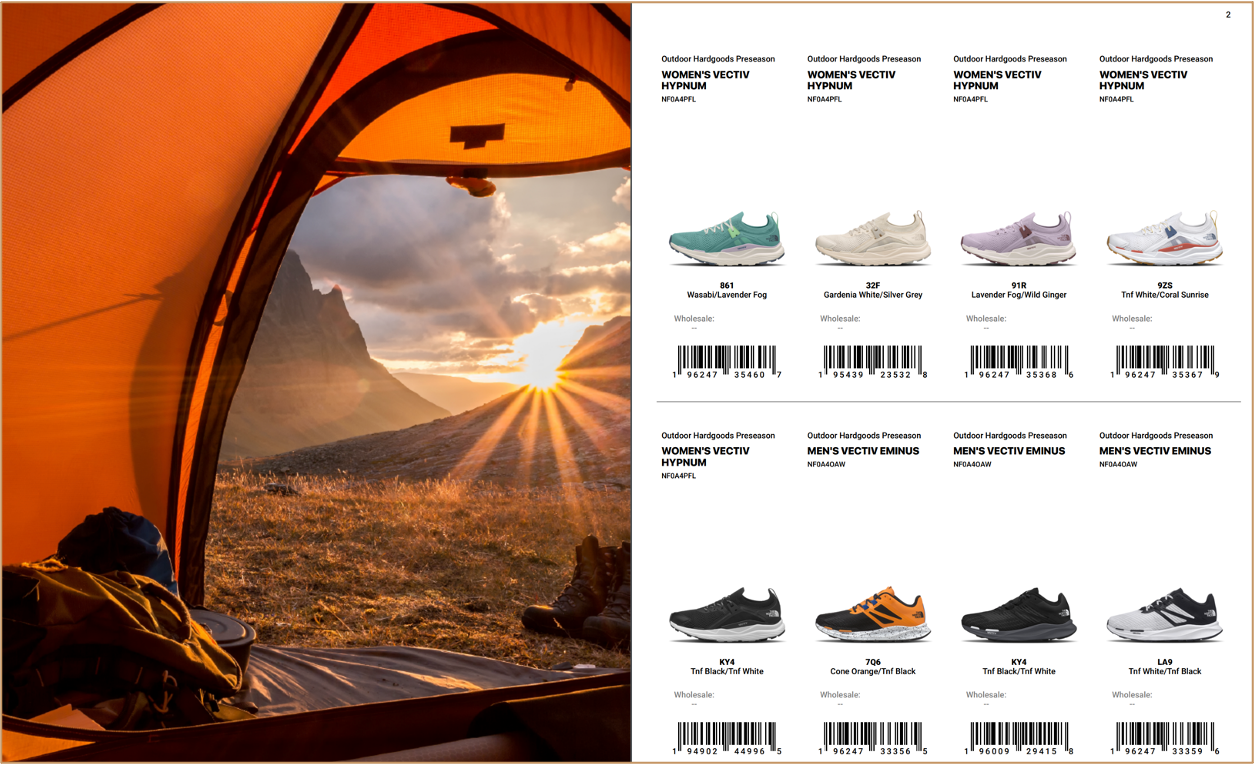 CREATE COLLECTION
  Drag & drop products

​

  Search & filter by category

​

  Insert marketing collateral

​
CUSTOMIZE LAYOUT
Include prices, tech specs or categories

​

Choose layout & delivery method

​

Include branded marketing collateral

​
SALES COLLATERAL
Custom presentation assets

​

100% accurate

​

Share via Digital or Print

​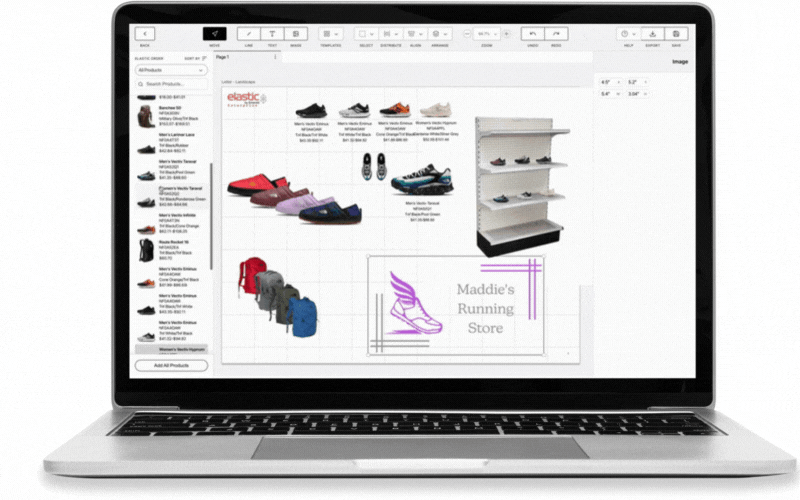 Drag & drop product

​

Adjust image size & layouts

​

Add product labels & details

​

Include text & display fixtures

​

Upload marketing or inspirational imagery

​

Print or share digitally

​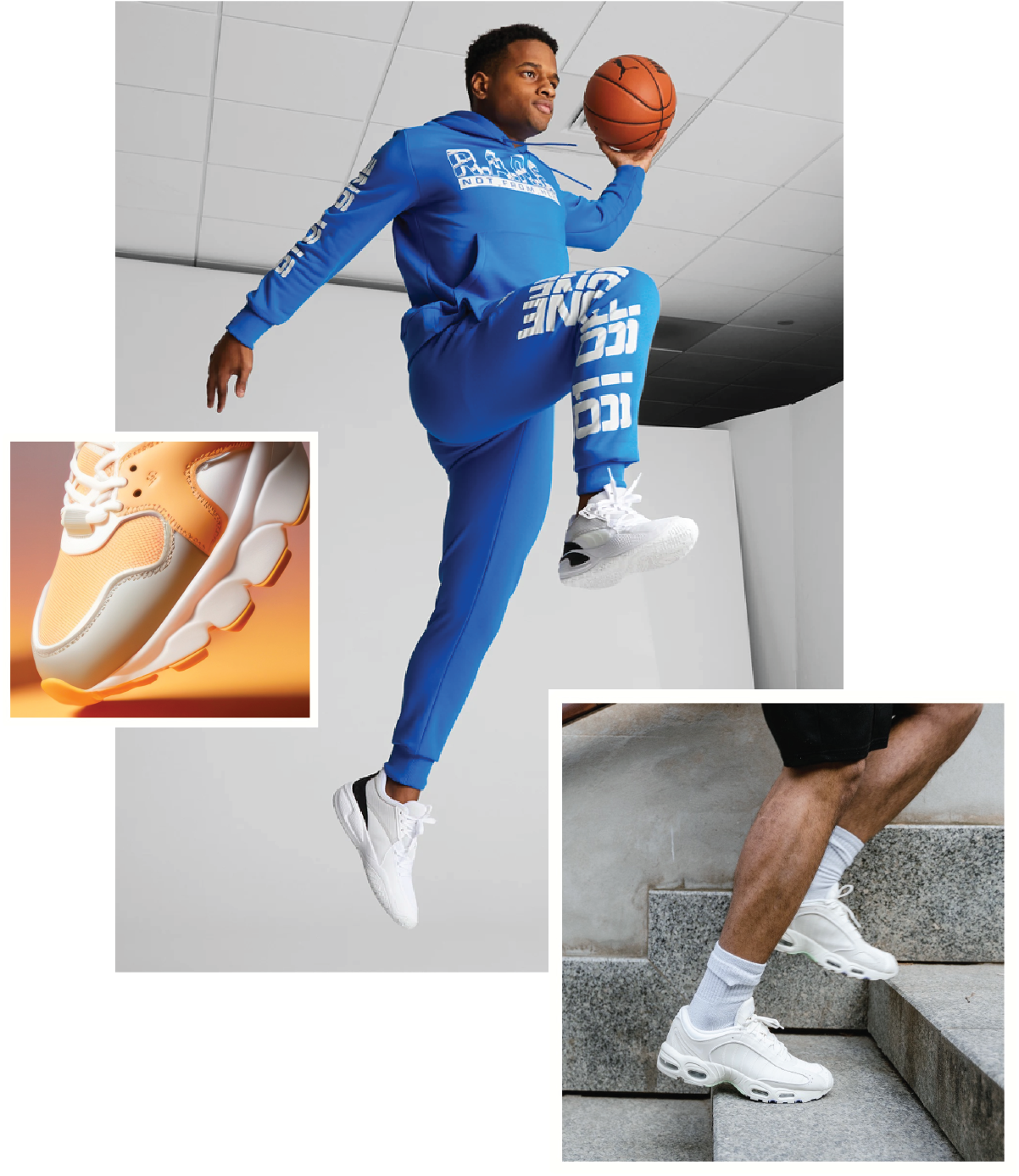 Real-time Inventory & Future Availability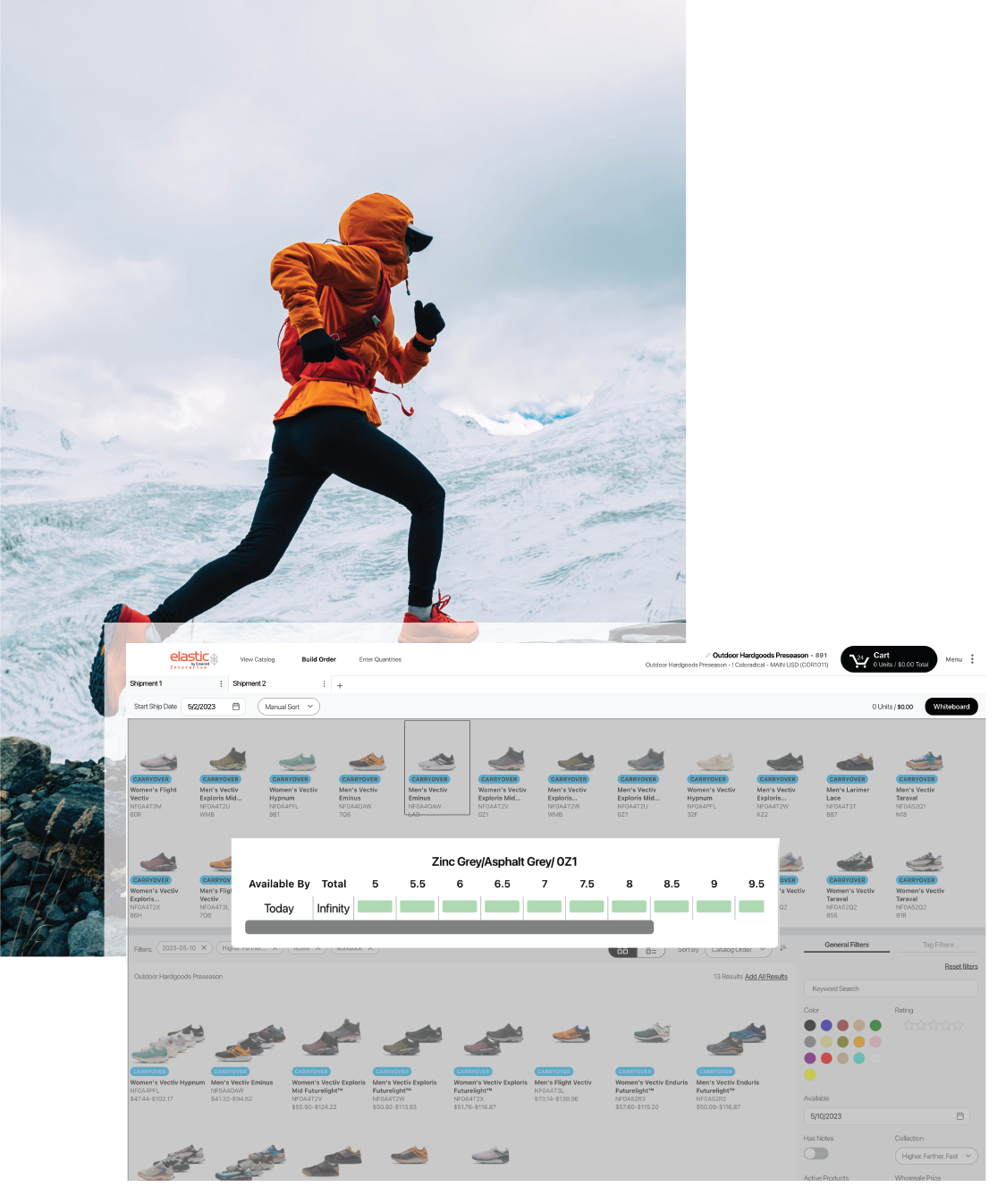 Quickly view live & future availability product

Instantly add multiple sizes & colorways
Copy & paste streamlines ordering​
Search by product or SKU for instant access​
Self service for retail buyers
Leading enterprise footwear, apparel & accessories brand
-Brand and marketing teams needed to differentiate product line merchandising for specialty, lifestyle and big box retailers
-Sales reps needed more efficient and error-proof ways for submitting orders during pre-season presentations and for at-once while in the field
-Increased total pre-season orders by 76%
-Increased total at-once and preseason shipments by 92%
-Increased total units per order by 140%
-Sales reps have become Elastic power users
-Improved retail relationships through use of personalized merchandising plans
-Products holding greater value at sell-in because of customized, data-driven product plans
Why you can trust our best-in-class B2B solutions
​
• From sales enablement & digital sell-in to streamlined, end-to-end wholesale
• Innovative solutions for enterprise-level business problems
• $18B annual order volume (GMV)
• White-glove account management services
• Customized training & customer success plans​​