One of the world's top footwear brands has been a long-standing Elastic Suite brand partner since 2014. Through both direct-to-consumer and retail partners around the globe, this brand generated over $7 billion in sales through footwear, apparel and accessories, up more than $3 billion in 8 years. Despite supply chain issues, the brand's focus on wholesale sales continues to pay off as brick-and-mortar sales increase quarter over quarter in North America and beyond.   
Starting in 2018, the brand saw an average increase of 103% on three key wholesale performance indicators. Based on average year-over-year Elastic business intelligence analytics: 
total orders increased 76%  
total shipments increased 92% 
total units increased 140% 
Here are four ways that Elastic has directly supported this exciting growth. 
Custom Collection Builder & Whiteboard Feature
First, the US wholesale team started off by using Elastic's Custom Collection Builder. By curating product assortments built for individual retailers, sales reps expose buyers to new products, increasing order value. But beyond cart or order size, a greater product mix improves in-store merchandising.   
The visual aspect of enhanced line presentations is key to the B2B sales effort.  They've taken advantage of enhanced assets and brand storytelling in the custom collection builder to go beyond traditional B2B ecommerce. By coordinating with the marketing department, the wholesale collections receive the same attention to branding that direct-to-consumer sites do.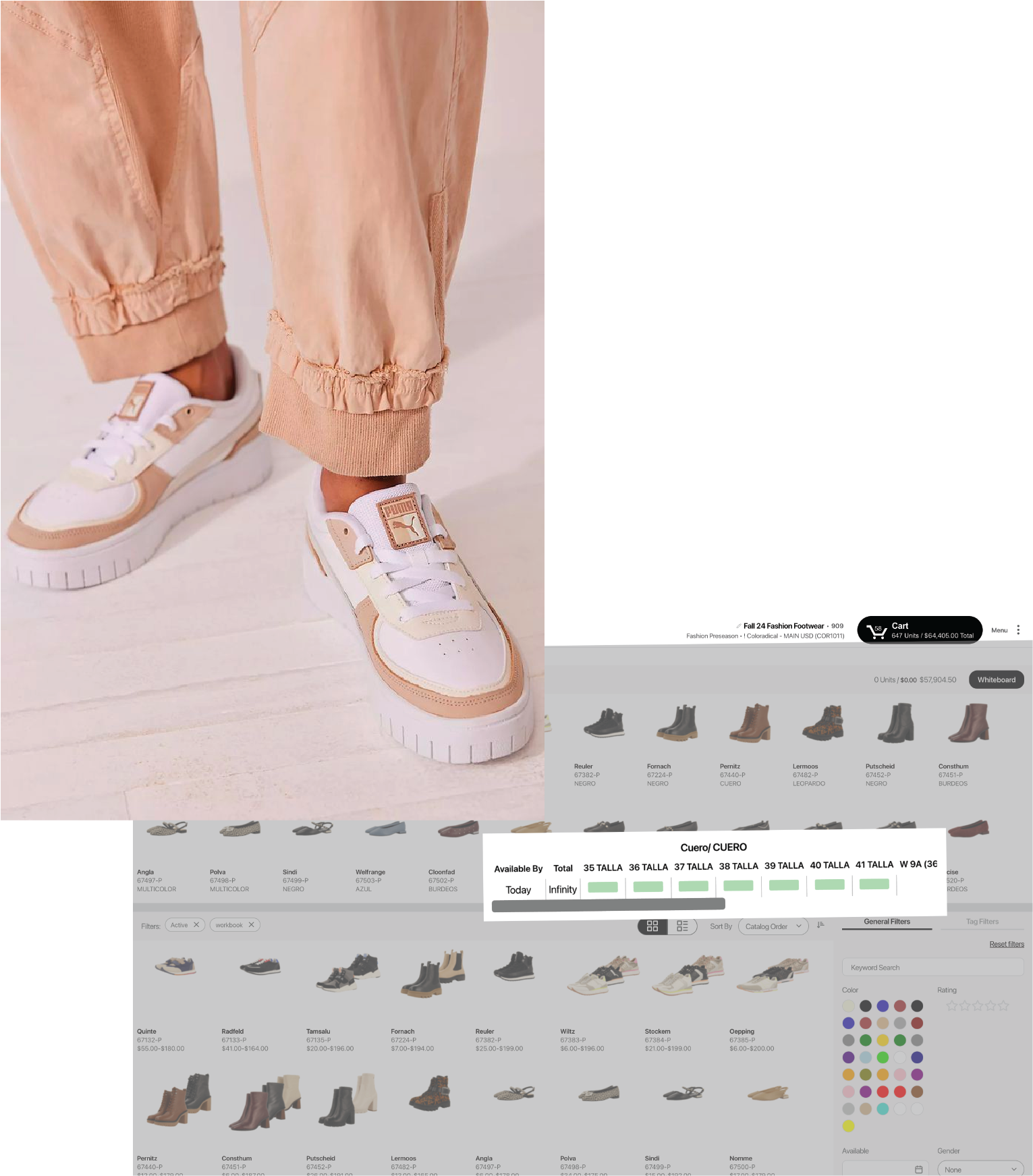 Offline Order Forms & Order History Microsites
Emphasis on the technical side of the B2B sales cannot be overlooked. By utilizing Offline Order Forms (called OLOFs) in the field, sales reps are quick and efficient with placing orders. This also allows for near-constant communication with the brand's enterprise ERP system and always up-to-date inventory information in the field.  
Taking advantage of order history data helps the sales reps continue to customize and tailor their suggested orders with retailer buyers. Using past order data, in conjunction with retail sell-through information, helps sales reps build order proposals that  holder greater sell-through value.   
Continue Education & Account Management
Another key area of success for many Elastic platform users and brand partners is continued education. By working closely with Elastic's Account Management and Professional Services teams, teh brand has created a team of educated Elastic power users.  
An example of exceptional platform usage was the customized whiteboard training our Account Managers created/ By giving their reps the tools needed to create outstanding merchandising whiteboards and in-store planograms, the brand continued their commitment to visual wholesale sales, empowered by their rep force.  
Continued Growth
As industry leaders, it's no surprise that this brand goes beyond traditional sportswear and footwear for both direct to consumer and wholesale product lines. Between launching new brands like an outdoor-focused line, to professional athlete and pop culture partnerships, the brand is constantly innovating their products. Their continued commitment to brick and mortar and wholesale sales furthers this brand experience and consumer connection.  
This brand's growth in the wholesale channel is mirrored in their expanded partnership with Elastic Suite. Because of the success the American reps have seen using the platform, Canada's network of sales reps and retail partners are also using the platform. The Canadian sales reps and retail partners were onboarded to the Elastic platform in Summer of 2022.   
This brand's golf brand has seen sustained wholesale growth, like many other manufacturers in the rapidly-growing channel. The expansive network of North American retailers and sales reps will be onboarded to the Elastic platform in Fall of 2023.