Free Fly Apparel is a leading manufacturer of apparel and accessories for sport, fly, and bluewater fishing. Made of sustainable bamboo and designed for freedom and protection against the elements, Free Fly's clothing and accessories are designed for all outdoor summer activities.  
Elastic Suite and Free Fly have partnered since 2019 to bring a superior B2B ecommerce experience to brand sales reps and retailers alike. By improving order entry processes and using integrated marketing tools, Free Fly has seen a significant increase in numerous wholesale business intelligence metrics since launching with Elastic in 2019.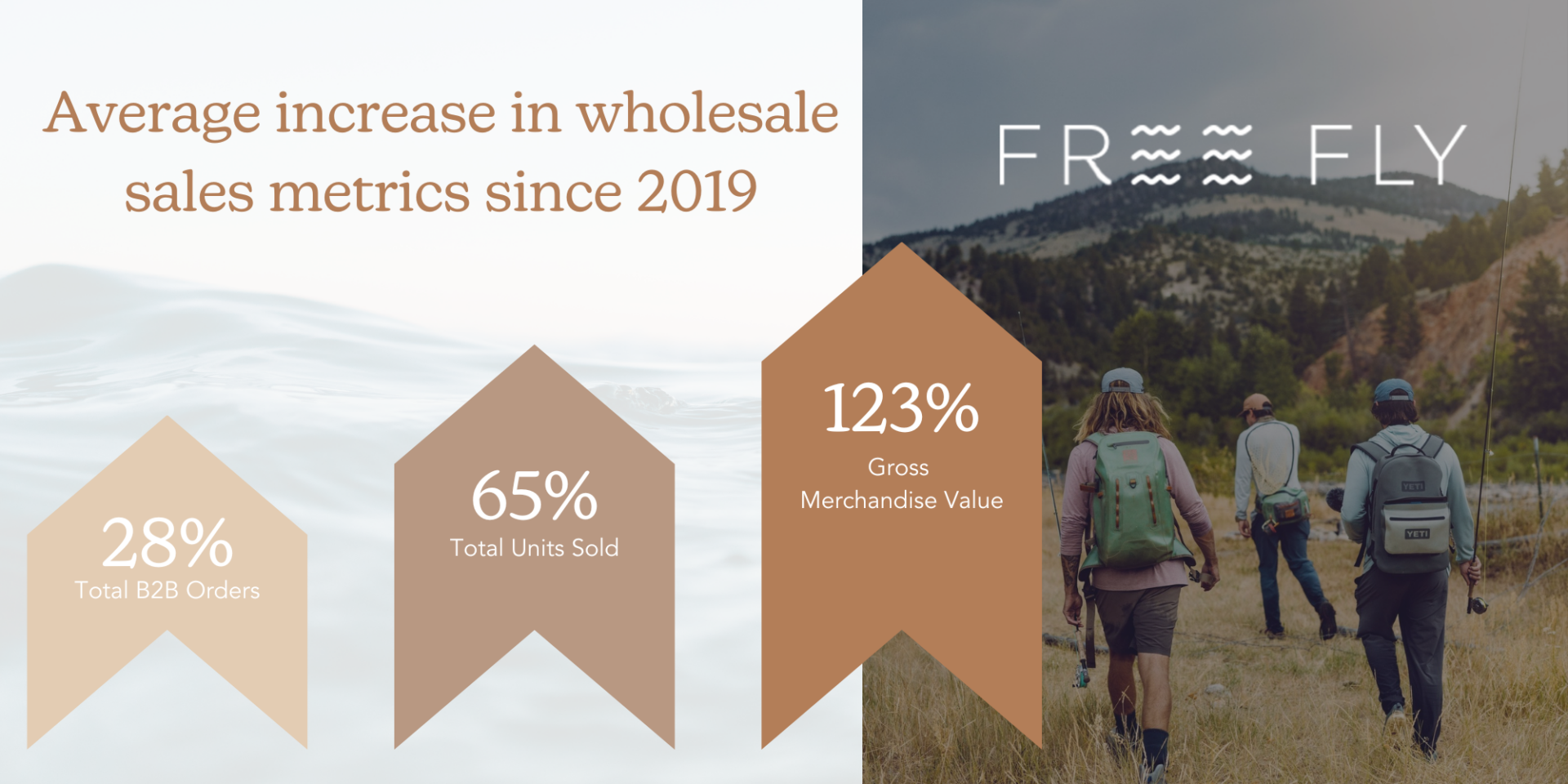 Improved Sales Processes Allow for a Better Customer Experience
Elastic Suite is designed to improve the entire B2B sales ordering process by creating cross-functional efficiencies. The Wholesale Sales team at Free Fly has optimized their processes so that more time is spent connecting with customers rather than manual order entry.  
Meeting customer demands starts before preseason sell-in begins. Free Fly's Wholesale team works directly with their marketing team to create B2B-specific assets for their custom collections and digital catalogs. By planning the design and marketing materials for Elastic's Custom Collection Builder, the Wholesale team does not have to use valuable Marketing resources with catalog design requests. Instead, the Wholesale team and their sales reps can create pixel-perfect digital workbooks within Elastic. Reps can even customize for on-site meetings, events, and trade shows.  
During the sell-in season, sales reps meet with their retail partners and present curated proposals for prebook orders. For at-once orders, available inventory is listed directly within the platform, so reps and retailers can work together to create orders based on what the stores need right away. There is no back-and-forth with customer success or warehouse managers to calculate available inventory. Orders are placed instantly, which saves time and resources for both customer success teams and buyers.   
Integrated Email Campaigns Streamline Ordering for Retailers
Elastic Suite is elevating the B2B buying experience by including traditional ecommerce features that shoppers have become accustomed to, including email marketing.  
Free Fly was an early adopter of Elastic's integrated email campaigns, which led to quick success by putting product details and ordering information directly into the inboxes of retail buyers.  For pre-season orders, sales reps created campaigns to announce new products and remind buyers of order deadlines.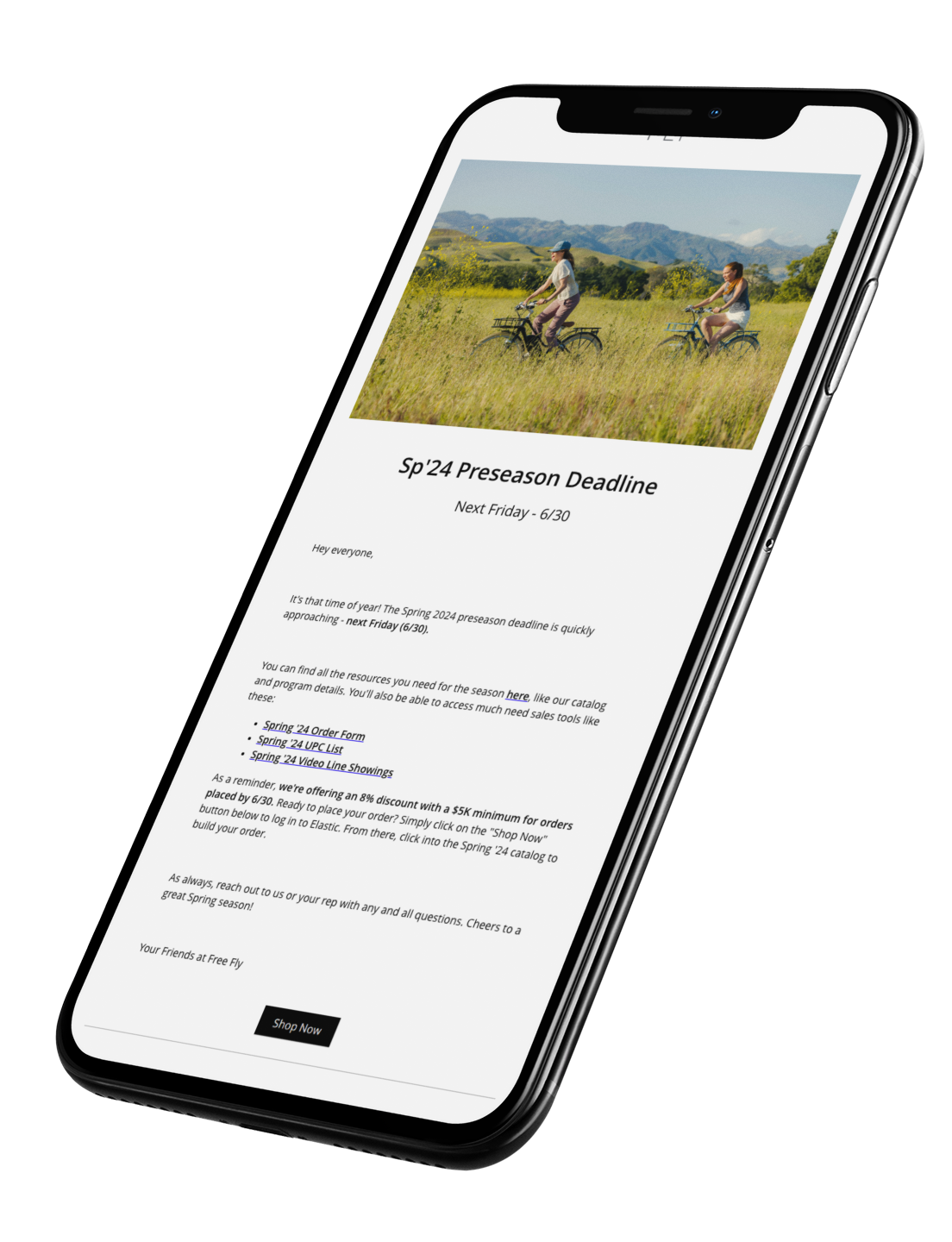 By streamlining communication and ordering all within Elastic, the entire wholesale process was quicker and more efficient for all users. 
For Fall '23, Free Fly developed a series of email campaigns reminding buyers of upcoming order deadlines. With an average open rate of nearly 60% (almost 5X the industry standard), Free Fly's direct marketing approach resulted in 10% larger orders placed ahead of deadlines. Combining the sales presentation and ordering process into just a few clicks, buyers are more likely to place larger orders on time.  
With the remaining seasonal inventory ready-to-ship, Free Fly's marketing team worked with reps to create campaigns announcing the product and pricing. These landed directly in the buyer's inboxes with just a few clicks from email to order. This process closely mirrors a D2C shopping experience, but instant access to products and inventory is new to the B2B process.  
"The Elastic campaigns are very easy to use and are helping our team streamline communication with retailers. The templates save marketing resources and give the sales reps the ability to tailor the messaging to their accounts. In combination with Custom Collections, campaigns provide retailers with a curated experience, leading to higher sales. " 

-Tish Hoekstra, B2B Manager, Free Fly 
To learn more about how your brand can curate your sales presentations and B2B ecommerce with Collections and Campaigns, reach out to our sales team.