NEW UI | UX RESOURCES FOR ELASTIC USERS
Elastic Suite's reimagined user interface puts visual assets & buyer experience at the forefront
The team at Elastic Suite has been developing, designing and perfecting B2B and wholesale ecommerce SaaS solutions for over 20 years. We've been through nearly 500 software releases and our latest release is the biggest and most impactful update yet. We are innovators at our core and with the help of decades of experience, the most trusted partners in the industry, and expertise in software development, we're excited to bring our new user experience to life. We updated the look and feel of the platform to ensure that Elastic brand partners have an ecommerce solution as innovative as their products, and retail buyers have an immersive experience, creating stronger connections with the brands and their products.
Why Elastic's B2B solution is better than ever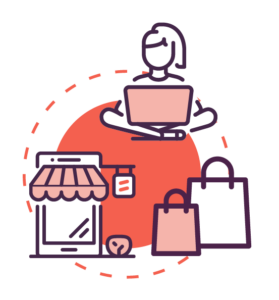 We heard over and over again from retailers that their biggest hurdle when using Elastic is that each manufacturer is slightly different. This is because each brand operates their business differently, and therefore conducts their B2B sales differently. But by streamlining the look and feel of each site, buyers can more intuitively explore products and place orders. The end goal of our entire platform redesign is to bring brands and retailers to shared success through quicker, easier and more insightful sales and commerce.
The retailer experience is really at the heart of this update. By creating the most immersive experience, with rich assets and brand storytelling at the forefront, retailers are no longer making transactions, but are taking part in a transformational commerce process. They're able to experience B2B ecommerce on a deeper level, leading, ultimately, to richer product exploration and deeper product mixes, ultimately changing the face of retail and the end consumer's buying behaviors.
What used to be the command center for B2B sales is now the jumping off point for product exploration and collection building. By incorporating more visual assets, orders begin with storytelling. When brands and retailers can connect over stories and experiences, rather than SKUs and colorways, both sides win.
Brands that use enhanced visual assets as part of their B2B sales process, sell more products. In fact, average order value is over 23% larger among leading brands that take advantage of tools like videos, lifestyle imagery and marketing and enhanced product assets like alternate images, 360º and on-model photography.

"Using enhanced product images for virtual merchandising was one of the most impactful decisions we've made. It's allowed us to quickly meet digital content demands triggered by changing market conditions and to reimagine our content creation possibilities even within incredibly tight wholesale product launch windows."

Jon Frederick | US Country Manager | Rab & Lowe Alpine
Each site was individually tested before being launched to buyers and rep users. The biggest change all users will see is the new and improved dashboard. While the experience feels entirely new, all the features that users have come to love (and expect!) are available in the menu and dashboard.
New or enhanced dashboard features include:
• Multibrand logo tray
• Enhanced visual search
• Video & photo marquee
• Featured collections
• Visual catalog covers
• Site links and resources
• Shop Menu that jumps to brand, product, catalog and collection exploration
• Manage Menu with order approval, collection creation, print jobs and order tracking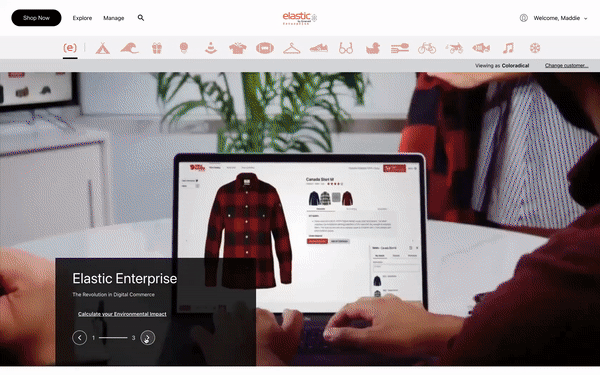 The process for revolutionizing B2B ecommerce
The new platform enhancements have all been developed in-house, by Elastic's own product engineers and developers. Our UX designers and product team collaborated with GALE Partners to establish baseline best practices and to ensure the very best in user experience. Months and months of research and testing went into the redesign project with rounds of iteration and feedback and usability testing. What seems like a simple redesign was a well-thought plan with even more features, updates and upgrades to come over the next few years.
Elastic continues to be the standard for B2B and wholesale commerce and with new features and upgrades continuously being tested, iterated and added. We are driving the industry towards the most immersive user experience possible. And by streamlining each Elastic's users technical experience, we moving closer to industry-wide standardization.
"The Elastic team has put so much heart and soul into reimagining our platform. Our goal is to create the best buying and selling experience for all Elastic users. With collaborative and visual solutions, we're reinventing the entire wholesale process to drive the future of retail. "

Josh Reddin | EVP | Elastic Suite