B2B vs. B2C: Helping Brands
Maximize Wholesale eCommerce
Market Opportunities
While many manufacturers have developed successful business-to-consumer (B2C) eCommerce sales strategies, breaking into business-to-business (B2B) or wholesale sales requires an entirely different toolset and approach. This may be especially true for mid-sized and smaller brands that may lack the resources to develop in-house merchandising teams and sales rep forces focused on creating wholesale relationships with retail partners. As a result, these brands and manufacturers fail to capitalize on the enormous growth potential that exists when successfully tapping the B2B and wholesale marketplace.
Some brands that do recognize wholesale opportunities for their products make the attempt to simply extend their B2C strategy and sales tools into the B2B realm. This approach is quickly met with obstacles due to the complexities and major differences between selling directly to consumers and selling, in mass, to retail partners or product distributors. There are also significant barriers of entry for small and mid-sized manufacturers to access the dynamic digital marketplace of wholesale buyers.
At Elastic Suite, our goal is to help brands navigate these complexities and create the most effective B2B sales approach to complement their successful B2C strategies. We're here to provide valuable insight into the wholesale market opportunity and how to best profit from it.
Fewer Customers, More Money
One of the biggest differences between B2B and B2C eCommerce is that selling wholesale creates more revenue from fewer customers, a reality that can be viewed alternatively or complementary to consumer sales. While per-product margins can be smaller in B2B sales, the sheer volume of hundreds, or thousands, of retailers each reselling a brand's products to a large customer base can create greater overall profits. And macro revenue data can drive home this point when comparing overall B2B and B2C eCommerce market opportunities. With the growth of direct-to-consumer online behemoths like Amazon, the casual observer may likely assume that the consumer marketplace is larger than that of wholesale. But in fact, just the opposite is true by a very large margin. According to the latest available United Nations economic spending data that contrasts the B2B versus B2C spending, global wholesale eCommerce revenue is actually nearly five times that of consumer online spending and in the United States, B2B eCommerce exceeds B2C by nearly seven times.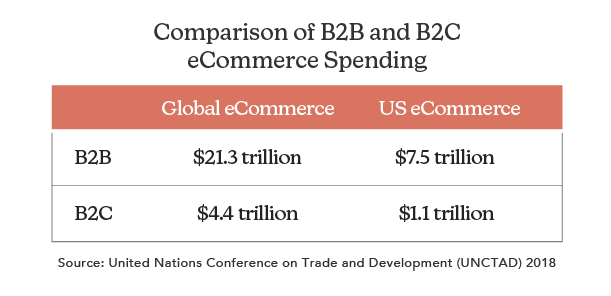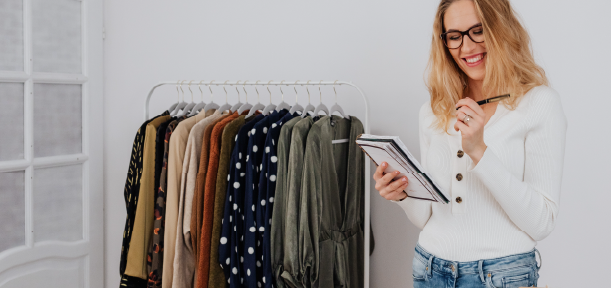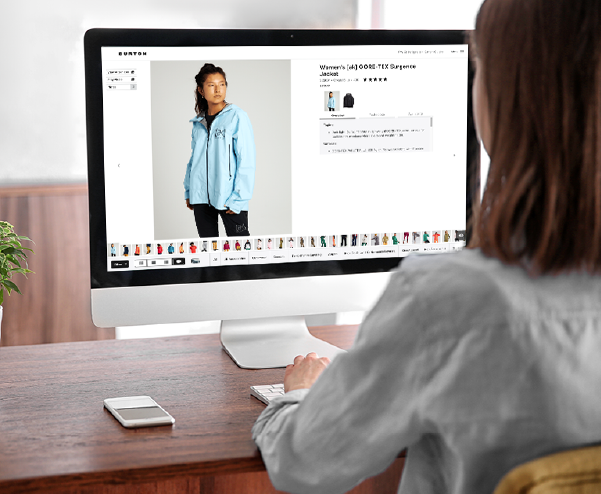 Differences Between B2B and B2C eCommerce
When comparing B2B and B2C commerce there are some seemingly obvious differences across the entire process. While some similarities do exist, buyers and sellers engaged on both sides of the transaction are wildly different. Understanding these variations is vitally important for brands in developing an effective strategy for entering the wholesale marketplace and creating successful partnerships with retailers.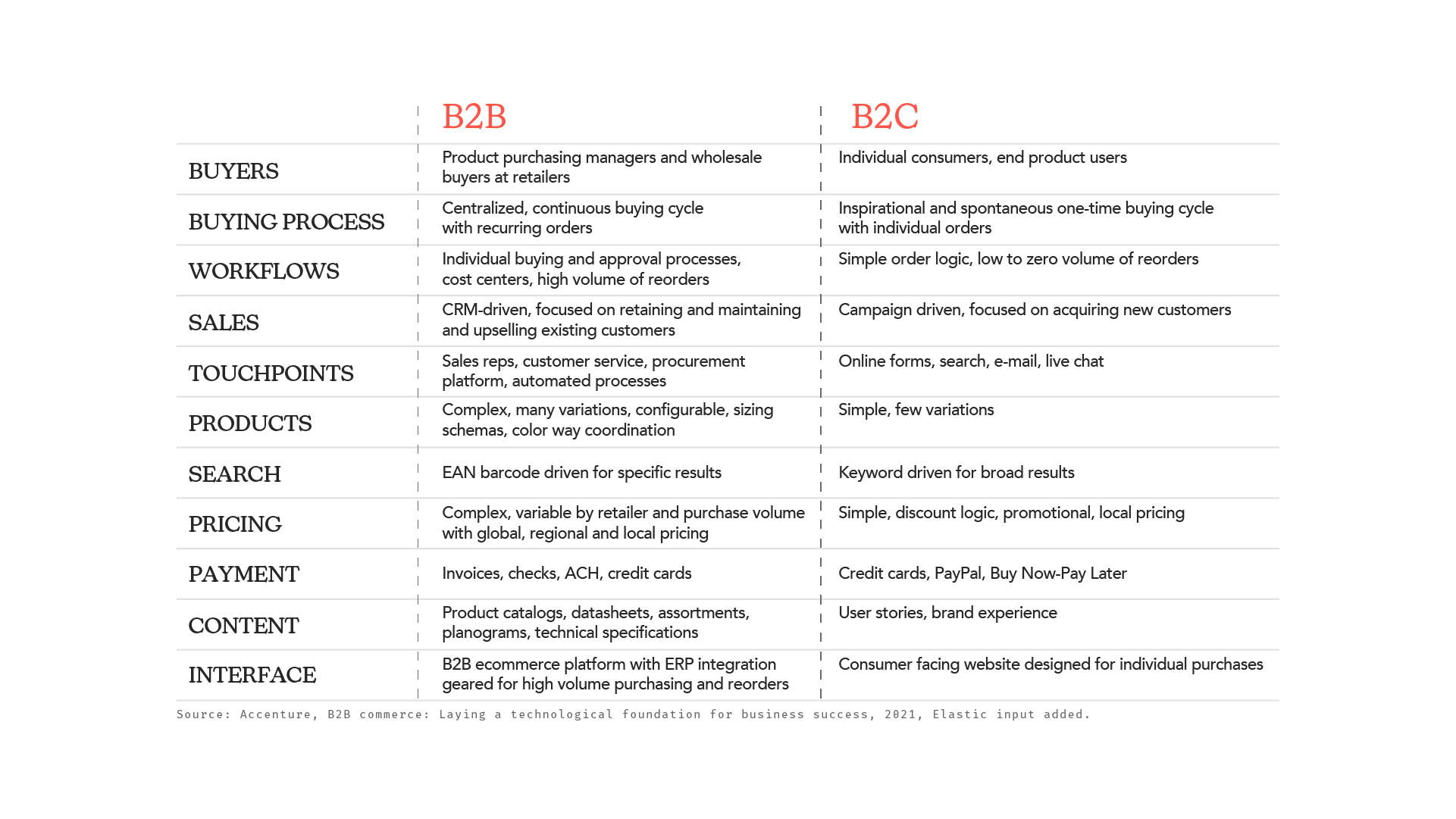 Utilizing True B2B Technology
Upgrading existing B2C-focused tools like Shopify to ShopifyPlus is a natural progression for a growing brand. But when considering these key differences between B2B and B2C commerce strategies, the importance of utilizing a digital wholesale technology platform becomes clear. For example, simply expanding an existing platform like Shopify for B2B sales will fall short, even if the solution claims it has been adapted for wholesale merchandising and sales. Because of the complexities of the B2B sales process and the specialized needs of wholesale buyers, extending a consumer-facing purchasing platform into the realm of B2B ecommerce is not a viable approach.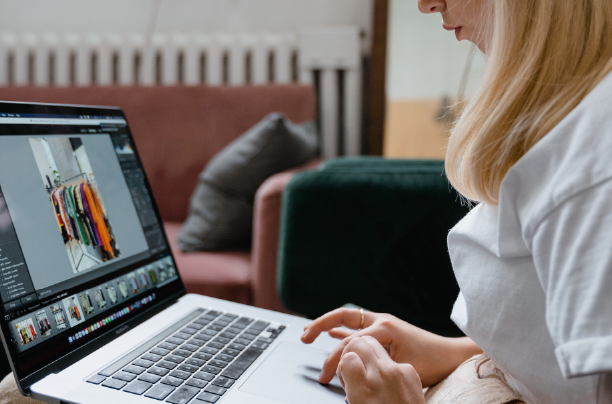 "The brands that are wildly successful at enhancing their wholesale business are the one that are best collaborators. Using solutions like Elastic's B2B ecommerce platform allows for seamless connections between manufacturers and their retail partners. Providing wholesale buyers with an end-to-end fully integrated purchasing experience, not only brings new process efficiencies but opens the door to creating opportunities for growth across the board."

Josh Reddin, Emerald EVP, Elastic Suite
Solutions designed for B2B commerce go far beyond the needs of a simpler B2C integration. Summarized below are just a few of the reasons why using a B2C platform for wholesale e-commerce can fall short and why brands should adopt proven digital technologies in support of their B2B sales and merchandising efforts.

Over the past few years, large global manufacturing brands have led the transformation to digital B2B solutions and have brought this technology to a vast network of retail partners. Because retailers are already adopting the wholesale purchasing process, they are now fully vested in it and are reaping the benefits. Brands that move against this trend and use their B2C platform for B2B are likely to be met with resistance from retailers who prefer the approach of an integrated and more capable wholesale buying experience.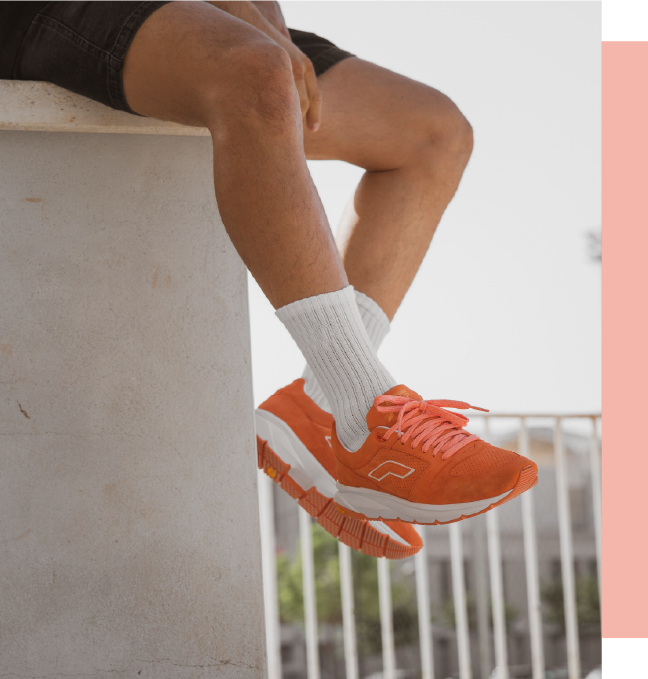 The good news for smaller brands that have not yet made the leap to a B2B solution is that the bigger brands have already laid the groundwork with retailer adoption. Brands that are newer to the digital wholesale process simply need to come onboard and join this growing B2B marketplace. An advanced, digital merchandising platform can generate incremental sales lift by making retailer purchases much more strategic in terms of product assortment, pricing and placement. This is simply not possible with a B2C platform. Retailers buy more product when using technology, as they can more strategically calculate the optimum inventory quantity for a particular consumer trend, brand, product line or sales season. A B2B solution also improves product speed-to-market while providing considerably more time to strategically manage at-once and re-orders, expanding the sales season.
A Truly Digital B2B Sales Process
B2B technology is designed for selling in mass with high-volume orders and reorders whereas B2C is designed for individual purchases. Next-generation digital sales and merchandising technology creates a more flexible and immersive purchasing experience between buyers and suppliers that is beyond the capability of traditional B2C ecommerce platforms. Providing more than just static digital catalogs, this technology is designed to help both manufacturers and retailers maximize the wholesale purchase of complex and diverse product lines through interactive user features. This includes fully customizable digital product catalogs, brand workbooks, assortment planning tools, visual merchandising whiteboards and much more.
Brands that make the move to a B2B-focused ecommerce solution are also realizing measurable cost savings. Designing, printing and shipping wholesale product catalogs and sales workbooks are a significant budget line item that is now being eliminated entirely. Both brands and retailers also benefit from the efficiency-driven costs savings of a much more strategic, streamlined and paperless procurement process through feature-rich, interactive digital sales materials.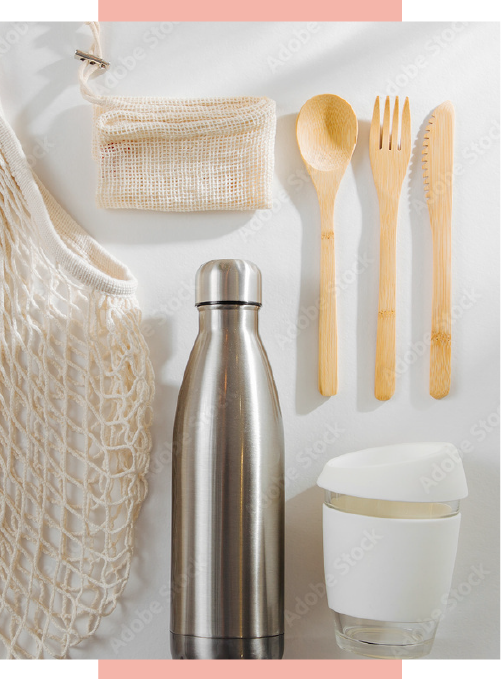 Adopting a digital B2B solution helps strengthen brands' commitments to sustainable business practices. For example, data from the Environmental Paper Network shows that eliminating the printing of 5,000, 150-pagecatalogs, or 750,000 pages total, reduces CO2 emissions by 33.8 tons, while preserving 15 tons of wood, equal to 90 trees. As more and more consumers are becoming aware of the importance of following sustainable lifestyle choices, their preference and affinity for, and loyalty to, brands and retailers that follow similar business practices is also increasing. While many businesses are committing to sustainable practices throughout their product lifecycle, separatingB2B from B2C sales practices helps brands further commit to, and impact on a ground level, individual green practices.
Greater visibility into real-time B2B sales data provides more strategic sales monitoring, planning and forecasting. The sales performance of individual products or lines becomes more easily analyzed and aids in the strategic sales planning process. A B2B merchandising platform allows for final sales planning to take place later and much closer to the actual start of the retail season. This creates the opportunity for more timely adjustments in planning, to maximize sales for both manufacturers and retailers (at sell-in and sell-through). Additionally, sales presentations and suggested order building are done on an individualized level. This personalization allows for greater upsell and sell-through opportunities for brand reps and distribution partners.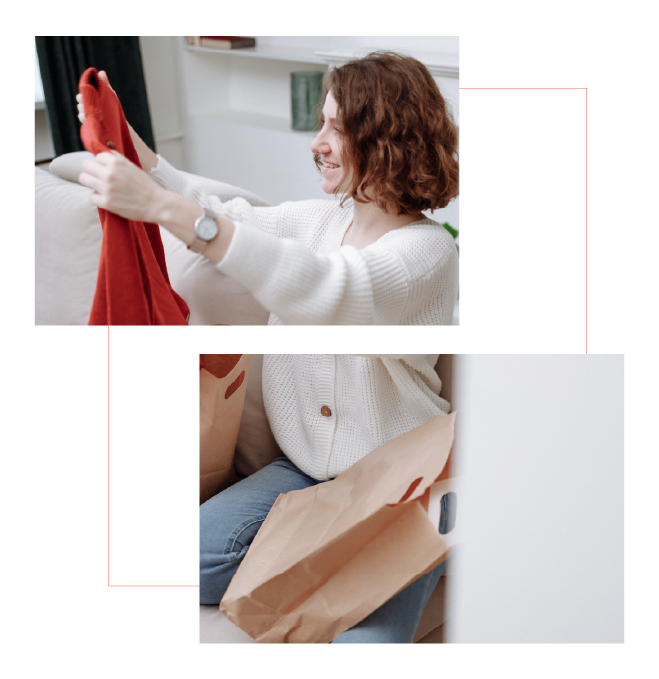 Efficient and Accurate Sales Orders
The wholesale process of purchasing and reordering products is time consuming and becomes increasingly expensive as the error rate rises. A fully integrated digital B2B solution offers the following cost saving benefits relative to orders, few of which are available with a B2C platform: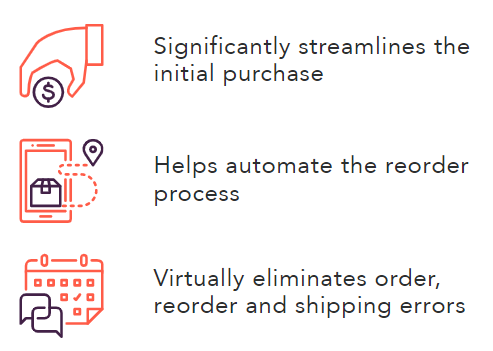 Fully integrated electronic payment capability eliminates all paper processes relating to B2B payments for high volume, mass purchases. Brands can enhance relationships with retail partners by providing the increased flexibility and efficiency of buyer-initiated payment with user-friendly retailer/dealer applications. Integrated payment allows for greater transaction automation under preset terms, conditions and controls, while reducing costs associated with human-related errors that are not possible with B2Ctechnology. There is also increased visibility and more efficient management of payables and receivables, thus reducing back-office time and resources needed for payment reconciliation. While easy and convenient payment processes (like ApplePay, buy-now-pay-later options) are cornerstone to the B2C commerce experience, the volume and order size of wholesale purchasing makes these simplified processes inaccessible.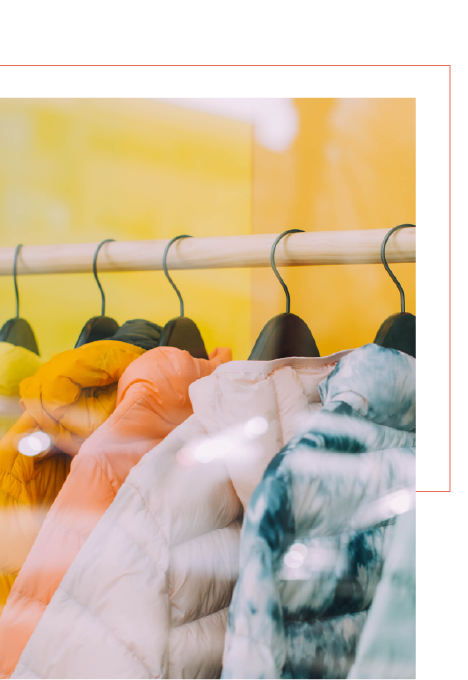 Inspiring the Renaissance of Retail
As brands continue their adoption of wholesale ecommerce technology and leverage all the accompanying enhancements it brings to the B2B sales process, a renaissance within specialty retail is taking place. And this enlightening transition to these technologies could not be timelier with the unpredictability of current market conditions and the need for brands and their retail partners to become more flexible in their sales strategies.
This Renaissance of Retail is Happening in the Following Ways:


A more strategic approach to consumer trends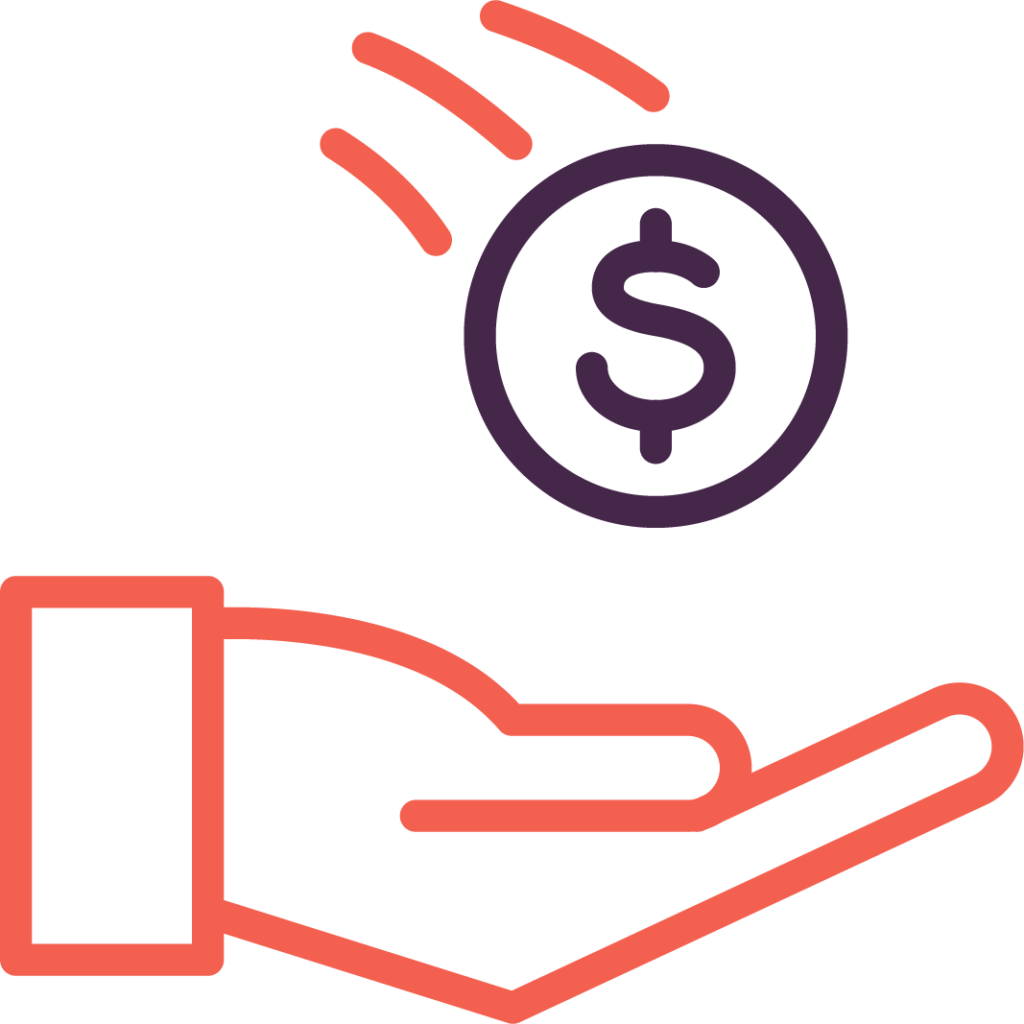 Strengthening sales at sell-in and sell-through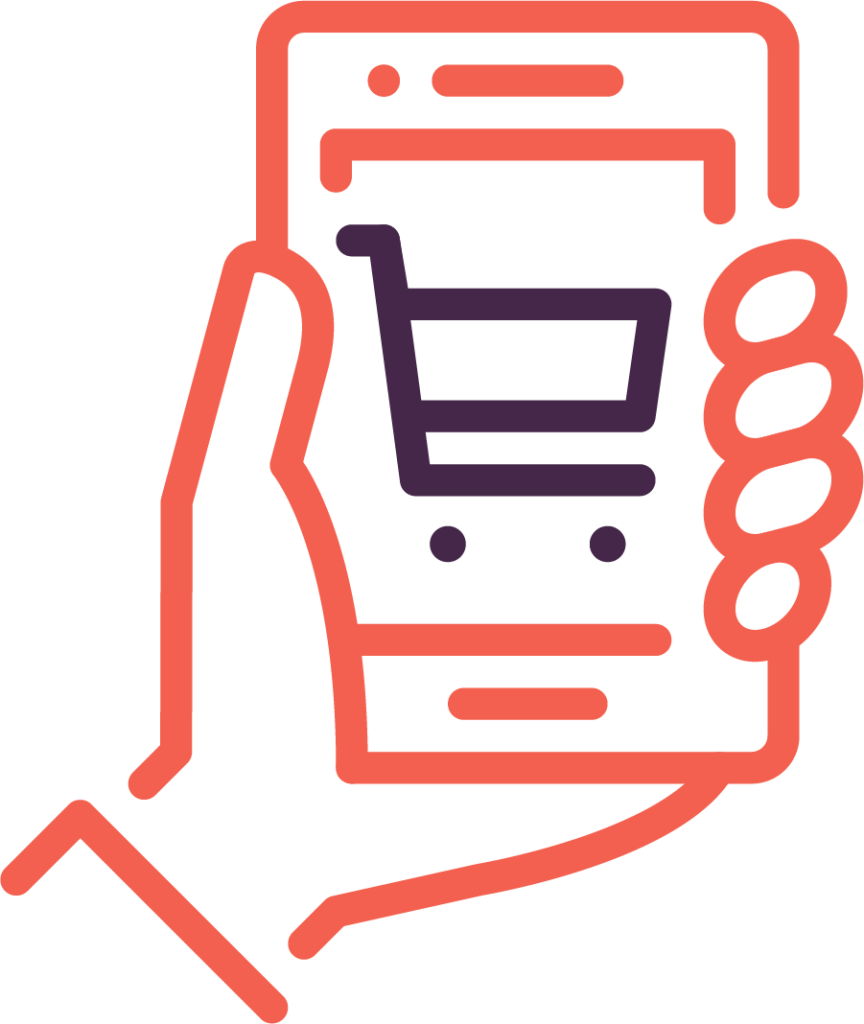 Creating more profitable consumer behaviors
A More Strategic Approach To Consumer Trends
Information is more than power when using innovative technology to create a more strategic approach to selling. Rather than respond to changing consumer trends, brands and retailers can work together to influence and drive trends relative to their products and assortments. B2B ecommerce technology provides a single source of truth that flows through an integrated platform in real time. Applied across combined functions for sales, operations and inventory, and customer service, the result is greater visibility into key B2B commerce data. This enhances a brand's ability to more effectively analyze, and predict, customer purchasing habits and shift their product mix to actually steer consumer trends for optimum sales and profitability.
"In a world defined by the evolution of digital technology and in an industry that has trailed in this progression, a next-generation B2B platform modernizes the way we can effectively do business with our customers from near or far. The results of deploying this technology are undeniable from both a sales planning and merchandising standpoint. It creates a new standard for how to respond to market demands and consumer needs while helping accelerate the speed at which business can be done." Allison Striegel, Sales Analyst, Fjällräven
"Merchandising is the root of how product comes to life at retail and is central to the long and short-term success of our partners. These stories are the testament to the brand and its value with retail partners. The better the representation, the better the outcome for both sides."

Missy McDaniel, Senior Key Account Manager, Fjällräven
"The key to profitability for brands and retailers is not to sell more product to more people, but to sell the right products to the customers that are most inclined to buy them. This means technology-empowered brands and retailers are collaborating to deliver the right products to the right customers at the exact right time – at full MSRP, no less. This is the renaissance of retail we're committed to driving forward." Josh Reddin, Emerald EVP, Elastic Suite
Creating More Profitable Consumer Behaviors
The next step beyond strategically using B2B sales and merchandising to build greater brand value is to create more profitable consumer behaviors. This is accomplished through closely analyzing enhanced wholesale commerce data. Brands can not only monitor consumer purchasing trends, but also identify opportunities to adjust product development and inventory management, with the goal of maximizing profits, based on real-time customer preferences. This can be done by product line, category adjustments, regional consumer preferences, sales seasonality and other strategic factors.
For a complete assessment of the potential for B2B technology in support of your brand…