Disrupting the Medical Clothing, Workwear and Uniform Industry with Digital B2B eCommerce
Opportunity for B2B digital transformation in a growing market
The adoption of B2B ecommerce technology and virtual wholesale purchasing solutions is growing among many manufacturing verticals and current market conditions are accelerating this trend. While this technology is widely adopted by brands and retailers in many sectors, such as the outdoor, surf, cycling, footwear and sporting goods verticals for both hard and softgoods, a large opportunity still awaits the medical clothing, workwear and uniform industry when making this transition.
According to research from Fortune Business Insights, the global medical clothing industry alone represents an estimated $71 billion in annual sales revenue for 2021. The workwear and uniform sectors together are expected to generate an additional $37 billion in global 2021 sales according to market estimates from Research Nester. Based on this data, the combined medical clothing, workwear and uniform industry represents $108 billion in estimated global annual sales revenue that is expected to grow to $147 billion by 2027.
The global COVID-19 crisis accelerated the need for the medical uniform industry to be able to anticipate, react, and pivot. With hospitals and essential businesses requiring massive amounts of PPE in a short period of time, to be able to track incoming and outgoing inventory and sell on virtual platforms was crucial. 
While this combined industry is expected to experience continued expansion, even greater sales growth and profitability await manufacturers and brands with the adoption of next-generation B2B ecommerce technology. The following assessment of this opportunity indicates that the industry could experience an additional $23 billion in estimated sales revenue and cost savings, growing to an estimated additional $31 billion by 2027, by making the transition from traditional wholesale purchasing processes. In addition to these bottom-line results, manufacturers can also expect measurable sustainability benefits that are calculated and outlined in this assessment.
End-to-End Sales Revenue Enhancement
Medical clothing, workwear and uniform manufacturers' reliance on traditional B2B sales methods, like analog order entry and printed brand books, creates a significant drag on their potential sales and limits revenue growth. In contrast, digital sales and merchandising technology creates a much more flexible and immersive purchasing interface between buyers and suppliers. Providing more than just static digital catalogs, this technology is designed to help both manufacturers and retailers maximize the sale of complex and diverse product lines through interactive purchasing features.
An advanced digital merchandising platform, like Emerald's Elastic Suite, can generate incremental B2B sales lift by taking the relationship between manufacturers and retailers to an entirely new level in the following ways:
A much more streamlined and collaborative interface with retailers ensures that mass product purchases are more strategic and better aligned with marketplace trends.
Retailers may develop less conservative purchasing habits and buy more products when using the technology because they can more strategically calculate the optimum quantity of products needed for a particular trend, brand, line or sales season.
A solution like Elastic improves product speed-to-market while providing considerably more time to strategically manage product lines and expand the sales season.
Increased revenue through the setup of customer branded microsites to conduct group sales business. 
By transitioning to a next-generation B2B ecommerce solution, as seen across numerous verticals already utilizing Elastic, manufacturers can boost their overall commercial sales revenue by a combined average of 21.2%. To achieve this potential lift it requires complete adoption of the Elastic technology and fully implementing each of the associated improvements for maximum ROI. To do so also requires strong organizational leadership to implement the needed sales process changes when making these improvements.
A breakdown of the various impacts from each of the Elastic functional benefits and the corresponding potential percentage lift on sales revenues is summarized below: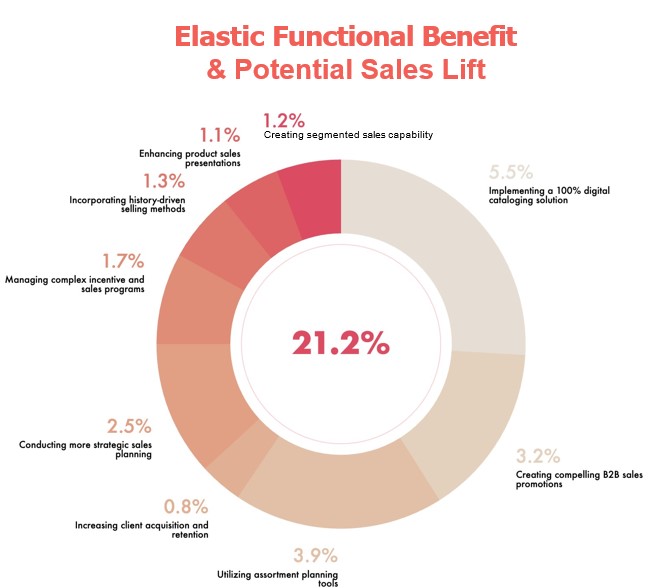 Across the global medical clothing, workwear and uniform industry with current estimated annual revenues of $108 billion this potential lift equates to nearly $23 billion in additional annual sales, growing to the potential of more than $30 billion in added annual revenue by 2027, according to research estimates.
Cross-Functional Measurable Cost Savings 
In addition to sales lift, digital B2B solutions like Elastic also provide measurable efficiency-driven cost savings that can reduce manufacturers' combined sales, marketing and customer service budgets. By far the largest source of cost savings comes through the elimination of printed product catalogs and sales workbooks. Printing B2B sales materials can be a significant line item within the sales and marketing budgets of leading manufacturers that is now being eliminated entirely by Elastic clients.
Based on proprietary data from manufacturers that have gone 100% print-free using Elastic's digital catalogs, the quantity of catalog printing that is eliminated averages 29,850 pages (equal to 298 catalogs, 100 pages each) per $1 million in B2B sales revenue. With an average catalog printing cost of $0.067 per page, this translates to $2,000 in printing costs alone per $1 million in revenue.
Because the medical clothing, workwear and uniform industry is heavily reliant on printed catalogs and sales workbooks, the average could be considerably higher than the verticals currently served by Elastic. But even when applying this conservative estimate across this industry, it represents a potential cost savings of $216 million annually that is estimated to grow to $294 million in annual savings by 2027.
By making this B2B ecommerce transition, both brands and retailers also benefit from the efficiency-driven cost savings of a much more strategic, streamlined and paperless procurement process through feature-rich, interactive digital sales materials. Across the verticals currently on the Elastic platform, manufacturers are seeing an average savings equal to 3.1% of their B2B sales and marketing budgets from B2B print elimination alone.
In addition to print elimination, manufacturers can potentially reduce their overall sales and marketing expenses by a total of 10.3% on average through complete deployment of a digital B2B solution. A breakdown of the total potential sales and market budget reductions from applying each of the Elastic functional benefits is summarized here: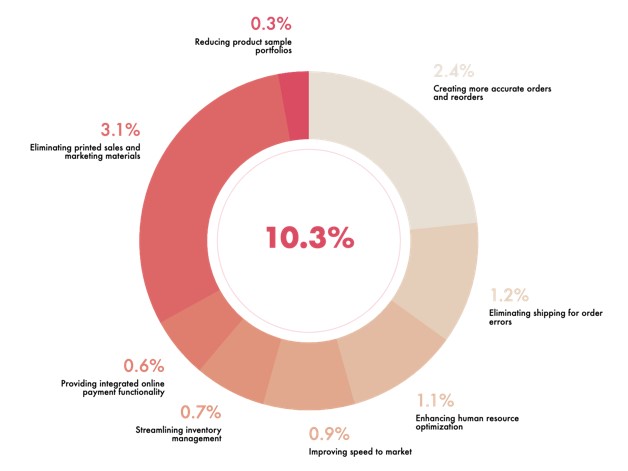 Greater Sustainability through Print Elimination
 In addition to cost savings and increased sales revenue, the Elastic platform helps manufacturers strengthen their commitment to sustainability through measurable greener business practices. As more and more end-user clients and customers are becoming aware of the importance of following sustainable choices, their preference, affinity and loyalty to brands that follow similar business practices continues to increase as well.
The biggest contributor to sustainability provided by Elastic is the complete elimination of printed B2B catalogs and sales workbooks. There are significant negative impacts to the environment associated with producing, transporting and disposing of these materials that are erased when fully deploying the Elastic solution.
Based on the industry average from other verticals of 29,850 catalog pages produced per $1 million in B2B sales revenue, the medical clothing, workwear and uniform industry produces an astounding estimated 3.22 billion catalog pages annually, projected to grow to 4.38 billion by 2027 if current business practices continue to be followed.
The negative environmental impact from this massive printing of B2B sales materials is equally astounding. This amount of printing is equal to 32.2 million 100-page catalogs that consume 40,284 tons of coated free sheet color printing material annually. Consider these environmental impacts every year by the medical clothing, workwear and uniform industry when producing and eventually disposing of these materials calculated using scientifically verified methodology provided by the Environmental Paper Network.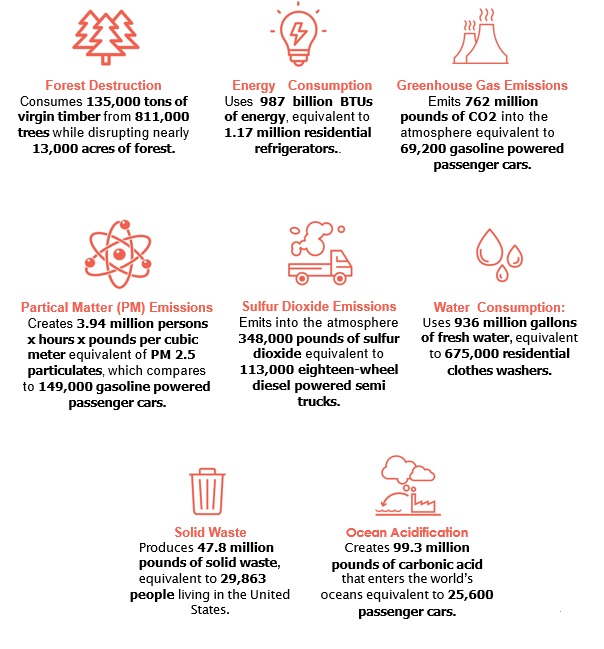 Source: Environmental impact estimates were made using the Environmental Paper Network Paper Calculator Version 4.0. For more information visit www.papercalculator.org. 
All of these negative environmental impacts can be eliminated entirely if the manufacturers within the medical clothing, workwear and uniform industry adopted the use of digital catalogs through a wholesale merchandising technology solution. The entire report from the Environmental Paper Network detailing these estimated negative impacts on the environment from the printing  of B2B product catalogs within this industry is available upon request.
What is Elastic Suite? 
Elastic is a next-generation B2B ecommerce and digital merchandising solution that transforms wholesale business from the ground up. 
From idea to inventory, simplified. Elastic enables brands to present a curated product mix with a software tool that inspires engagement and collaboration between manufacturers and retailers. The days of heavy print catalogs and wasted sales and marketing resources are over. Elastic's B2B ecommerce, digital catalog and merchandising features virtually eliminate the need for the classic brand book and in-person sell-in meetings. 
Elastic inspires the right type of collaboration and engagement for retailers with tools that not only drive sell-in but improve sell-through at the retail point of sale. By focusing on building relationships between brands and retailers, we've created a solution for tried-and-true processes, built for our users, with update
s and upgrades driven by our users. Native integrations also mean that Elastic isn't just another tool, but brings together inventory, ship-to locations and pricing strategies all in one place.
Across channels and verticals, Elastic's B2B is the ultimate sales platform leveraged by brands of all sizes and varying business objectives. From main street shops to massive big-box retailers, Elastic is built to scale. With customized solutions like product personalization, multi-branded dashboards, sales forecasting, product bundling, sales programs and discount management, we've created a world-class B2B solution that exceeds the needs of our customers. 
Powerful Product Customization
A key differentiator is Elastic's powerful product customization feature. Built directly into the ordering platform, brand reps can work with their retailers and dealers to create, design and order personalized products – not just embroidered t-shirts, but hardgoods too. Creating these specialized products adds even greater value to workwear and uniform manufacturers, strengthening relationships with retail partners and the end consumer, too.
 Because we are the most widely-adopted solution in our key verticals, we have become more than just the standard, but we are the leader in solving enterprise-level business problems. Below are just a few of our clients that are helping us lead the way in digital B2B ecommerce transformation.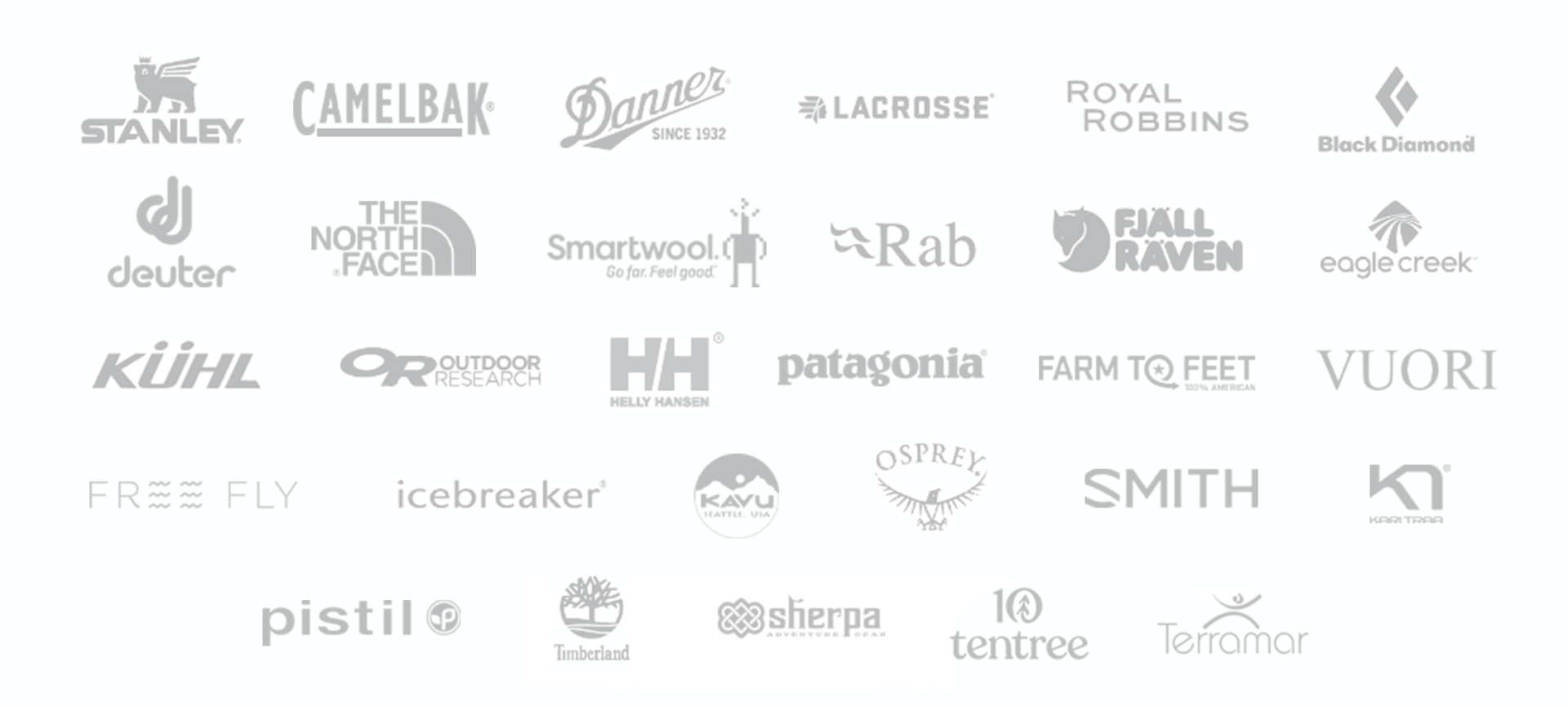 Learning Summary
 A considerable opportunity awaits manufacturers within the medical clothing, workwear and uniform industry as they begin to transition from traditional commercial sales processes to next generation B2B ecommerce technology like Elastic Suite. The associated benefits of this shift include increased sales revenues, measurable cost savings and a much more sustainable approach to wholesale merchandising and purchasing with their retailers.
Accelerated Industry Growth 
The medical uniform and workwear industry is seeing massive growth and is expected to reach $147 billion by 2027. Ripe for disruption, the industry will benefit from transitioning to digital B2B solutions by saving on internal costs, increasing sales revenue and realizing sustainability goals. 
Cost Savings
Digital B2B platforms provide measurable efficiency-driven cost savings that can reduce manufacturers' combined sales, marketing and customer service budgets. By allowing for cross-functional streamlining, digital solutions can save manufacturers nearly 10% annually. 
Sales Lift
With the possibility of more than a 20% incremental sales lift, digital B2B solutions can build the relationships between manufacturers and retailers to an entirely new level, driving even greater revenue possibilities for the growing market. 
Environmental Benefits
The elimination of printed catalogs through use of a digital merchandising tool can save an estimated 3.22 billion catalog pages annually. The environmental savings of reducing these catalogs is realized across paper production, water consumption, solid waste and emissions creation.