FREQUENTLY ASKED QUESTIONS
Powered by Elastic Suite's Best-in-Class Technology, Exchange is a year-round, all-in-one platform designed with buyers and retailers in mind. Exchange is not a virtual tradeshow.
With simple data inputs and minimal IT resources required, Exchange is the single-source for brands and manufacturers to connect with retailers and sell–in products.
Mid-market and boutique brands can now access Elastic Suite technology that retailers across industries have come to know, and quite frankly, love.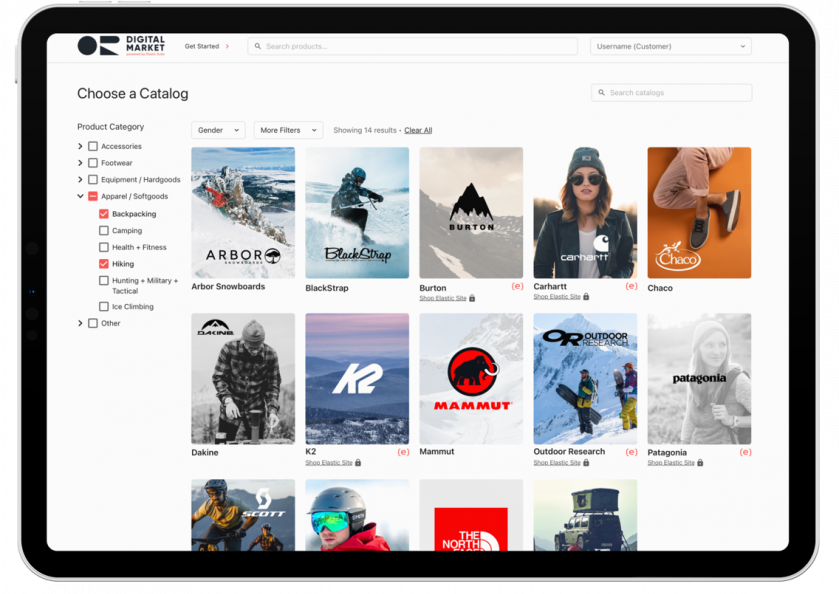 Do I have to be an exhibitor at OR or Surf Expo to be a part of their Exchange? 
No! Exchange is designed to be used year-round and you do not have to attend or exhibit at any type of tradeshow to use and/or see value with the platform. The OR and Surf Expo Exchange are simply aligned with the shows as they are industry leaders for dealers and brands.
Can I use Exchange at other shows and events?
Of course! Exchange is a 365 tool that's designed to be used throughout the year for sell-in and events.
What's included with my annual licensing fees?
Access for your brand team (retailers are not included in your license count), onboarding support, unlimited data imports and updates, always-on knowledge bank, access to ALL users on the buyer and retailer side.
Who loads all the products onto the platform?
The Brand does this, with guidance from our Onboarding team. Once a contract is signed, the Brand is contacted to participate in a robust onboarding training program that consists of live webinars, video, and downloadable materials.
Will I receive help to get me up and running on the platform?
We have Onboarding and Customer Success teams ready to assist in this process. You will receive a welcome email that will contain all the details you need to begin the onboarding process. In addition, we will host regular Onboarding Webinars to provide more interactive support. Our Customer Success team is then available and ready to support you once your catalog is loaded within the Exchange.
How do brands update new products or seasonal lines throughout the year?
It's very simple and you will be trained how to by Onboarding and Customer Success teams. You'll have access to a secure file sharing hub that connects your data directly to the Exchange platform. If you update your data throughout the season, you simply reupload to Exchange.
Is there an inventory management element?
At this point, active inventory management is a feature that is available in Elastic B2B and not Exchange or Elastic Lite.  Product counts do automatically decrease when units are marked as sold and can be updated on the back end at any time. 
What software features are included?
All the standard Elastic Suite features are included except for additional software integrations. All Exchange and Elastic Lite users get access to product search, digital catalogs, whiteboards, and Standard and Quick Order Mode.
What's the biggest difference between Exchange, Elastic Lite, and Elastic B2B?
Exchange and Elastic Lite are more feature-light than the full Elastic B2B version. There is no ERP or CRM integration that can help with backend order and sales processes that larger enterprise organizations have automated. Implementation and launch timelines are much shorter because of the IT resource-independent integration.
When does the Exchange go live for retail buyers?
Outdoor Retailer Exchange and Surf Expo Exchange will go live in Fall 2021. You will receive an email with your login information 2 weeks before and on the day of the go-live date.
Do all retailers get access to the show?
All qualified retailers are automatically given access to our Exchange, similar to our process for our live events. To qualify, retailers must provide proof of business identification (example: copy of state sales & use permit with appropriate SIC or NAICS codes; voided business check or copy of corporate credit card, W2, tax-related documents).
Is there a qualification process for retailers?
We vet all of our retailers – whether it's for our live event or Exchange. Qualified retailers must provide proof of business identification (example: copy of state sales & use permit with appropriate SIC or NAICS codes; voided business check or copy of corporate credit card, W2, tax-related documents). Additionally, our Retail Relations team partners with brands to ensure the retailers they want to work with are identified and invited to participate in the Exchange and our live events.
If we sign up for Outdoor Retailer or Surf Expo, how long is the Exchange live?
The Exchange is available year-round, 365 days after the show ends.
Is there a cost for retailers?
No, it's completely free for all authorized retailers.
Do I have to attend Outdoor Retailer or Surf Expo to access Exchange?
No. Retail Buyer attendees are automatically invited to use the platform. 
Are all retailers invited to be a part of Exchange?
All retailers who register for either Outdoor Retailer or Surf Expo are qualified to attend. We vet all of our retailers – whether it's for our live events or Exchange.
What brands can I purchase from?
You can place an order with any brand that has an open-to-buy catalog in Exchange. You must already be an approved retailer for brands that link to another Elastic site.
For standard brand catalogs, any retailer can view and shop those brands and submit orders through Exchange. It will be up to the brand to determine whether they want to accept and fulfill that order.
What types of orders can I place?
At Once (or ATS) and PreBook inventory is available. It is dependent upon the type of inventory that the brand has uploaded on its end.
How do I pay my invoice once I've placed an order? Is there a credit card processor?
Each brand is responsible for invoicing and billing separately. Once your order has been approved and placed, the brand or rep will be in touch with the next steps for payment method.
What is the turnaround time before the order will be shipped?
All inventory management and order processing are handled directly by the brand. Once your order has been approved, the brand rep will reach out with payment and shipping information. 
How can I find the contact information for the brand?
Contact information and resources are available within each brand's Exchange catalog.
I want to have a brand I like in Exchange – how can I help get them signed up?
Do you have a tutorial that can help me with the platform?